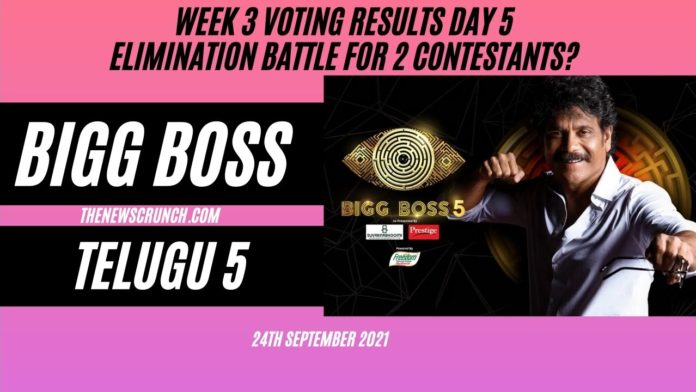 Bigg Boss 5 Telugu is on the verge of completing its third week amidst the fun, chaos, competition, and drama. The captaincy task was a hard-fought battle in which Jessie emerged as the winner. However, the limelight shifts to the third week's eviction from Bigg Boss 5 Telugu which will be announced in Sunday's episode.
Bigg Boss 5 Telugu witnessed Uma Devi's eviction last weekend. Also, Sarayu exited the Bigg Boss house which reduces female competition to an extent. However, the five nominations for this week tried to enter the captaincy race to ensure safety. Amidst high drama in the house, Bigg Boss 5 Telugu continues to grip the audience considerably.
Bigg Boss 5 Telugu Nominations List Week 3
Priyanka Singh
Priya
Maanas
Lahari
Sriram
Bigg Boss 5 Telugu Voting Results Day 5
Priyanka – 22% vote share
Priya – 24% vote share
Maanas – 25% vote share
Lahari – 14% vote share
Sriram – 15% vote share
Bigg Boss 5 Telugu Week 3 Elimination and Voting Analysis – 24th September 2021
The "Hyderabad ammayi – America abbayi" task concludes on a great note with some impressive performances. As a result of successful task performances, Ravi got a shot at the captaincy task. However, four other contenders included Jessie, Shwetha, Sreerama Chandra.
Jessie becomes the captain this week. However, Sreerama Chandra is still safe considering his elimination nomination vote share.
Priya lurks in danger ahead of a suspense-filled showdown to the third elimination battle.
Siri and Shanmukh's fragile relationship is another buzzing topic for discussion apart from elimination for the fourth week.
On the final day of voting, Maanas and Priyanka are safe from elimination this week.
The real battle for elimination boils down to Priya, Lahari, and Sreerama Chandra.
The fight for captaincy takes a serious note in week 3. Sreeram Chandra gets an apt role in a critical period for him. However, he manages to gain enough screen coverage.
The Bigg Boss 5 Telugu voting results are a tough fight for the third week's eviction.
An epic twist takes place in Bigg Boss Telugu 5 voting results this week. Sreeram, Priya, and Lahari are neck and neck in the elimination battle. However, Lahari trails by a minuscule margin.
Maanas consolidates his lead at the top as he emerges as the most popular contestant of this week.
Voting missed call numbers of nominated contestants in the third week of Bigg Boss 5 Telugu:
Priyanka Singh: 8886658209
Maanas: 8886658204
Priya: 8886658207
Sreeram: 8886658204
Lahari: 8886658203
Bigg Boss Telugu Season 5 Voting through Hotstar:
Bigg Boss Telugu season 5 voting process on Hotstar involves logging into the app through email/Facebook.
The viewers are required to search for the Bigg Boss Telugu season 5 episode of a particular day and click on the vote option that can be seen below the episode video.
Among the nine contestants nominated for elimination this week, you can vote for your favorite contestant(s) and cast your vote.
Every user will be given 10 votes per day, either cast for one contestant or split among multiple contestants.
Also, vote at TheNewsCrunch UnOfficial Poll to get transparent voting results daily.