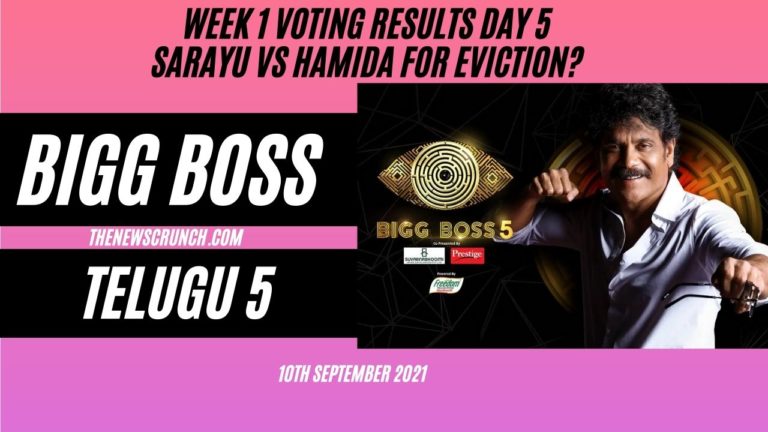 Bigg Boss 5 Telugu is on the verge of completing its first week as the drama, chaos, and fights start crawling inside the house. The much-awaited first elimination of Bigg Boss Telugu will take place this weekend. There are multiple possibilities for twists in the upcoming weeks as the six nominated contestants grapple for safety.
The voting results for the first-week eviction are filled with suspense and enthusiasm as the voting lines will close tomorrow. RJ Kajal is gaining some traction while Lahari is picking fights with Hamida and Kajal. The power room task is keeping the contestants engaged all night and day.
Bigg Boss 5 Telugu Nominations List Week 1
RJ Kajal
Ravi
Maanas
Jaswanth
Sarayu
Hamida
Bigg Boss 5 Telugu Voting Results Day 4
RJ Kajal – 16% vote share
Ravi – 29% vote share
Maanas – 21% vote share
Jaswanth – 16% vote share
Sarayu – 8% vote share
Hamida – 8% vote share
Bigg Boss 5 Telugu Week 1 Elimination and Voting Analysis – 10th September 2021
An epic twist takes place in Bigg Boss Telugu 5 voting results this week. Sarayu and Hamida are neck and neck in the elimination battle. However, Sarayu trails by a minuscule margin.
Ravi consolidates his lead at the top as he emerges as the most popular contestant of this week.
Manas climbs to the second position as the audience took note of his matured gameplay. However, it is still early days in the Bigg Boss house.
RJ Kajal's vote share also witnessed a spike compared to the first two days. RJ Kajal looks promising to go the long way in Bigg Boss Telugu.
Sarayu is lacking screen time and traction to help her to safety from the first eviction this weekend.
Voting missed call numbers of nominated contestants in the first week of Bigg Boss 5 Telugu:
RJ Kajal: 8886658201
Ravi: 8886658212
Maanas: 8886658204
Jaswanth: 8886658208
Sarayu: 8886658209
Hamida: 8886658211
Bigg Boss Telugu Season 5 Voting through Hotstar:
Bigg Boss Telugu season 5 voting process on Hotstar involves logging into the app through email/Facebook.
The viewers are required to search for the Bigg Boss Telugu season 5 episode of a particular day and click on the vote option that can be seen below the episode video.
Among the nine contestants nominated for elimination this week, you can vote for your favorite contestant(s) and cast your vote.
Every user will be given 10 votes per day, either cast for one contestant or split among multiple contestants.
Also, vote at TheNewsCrunch UnOfficial Poll to get transparent voting results daily.