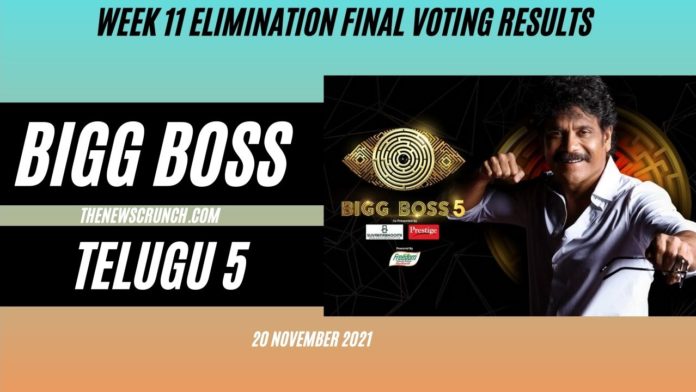 Bigg Boss 5 Telugu completes an interesting week as the elimination suspense returns to Bigg Boss house with a twist. Jessie was the last contestant to leave the Bigg Boss 5 Telugu house. However, the limelight shifts to the eleventh elimination of Bigg Boss 5 Telugu from the eight nominations based on Friday's final voting results.
Bigg Boss 5 Telugu 11th week elimination reflects on the task performances. The first-week Sarayu, Second-week Umadevi, Third-week Lahari, Fourth week Nataraj Master was destroyed, Hamida was eliminated in the fifth week, and Shweta Verma was eliminated in the sixth week. Vishwa was eliminated last week. With the conclusion of the voting window this week, Anee Master is in danger.
Bigg Boss Telugu 5 Elimination This Week
Eleven weeks had just passed in the house. As part of this, eight girls and three male contestants were eliminated. However, who will be eliminated this week is raising suspense. It seems that those in the nomination, especially Anee and Priyanka are in the danger zone.
However, according to the latest information, it seems that Kajal got more votes. With this, it seems that Anee and Priyanka are in the danger zone this week. Of the two, however, Anee is expected to be the Bigg Boss 5 Telugu week 11 elimination. Official information on this is yet to be known.
If so, some netizens say the Bigg Boss 5 Telugu finalists are Sunny for sure as he won the eviction free pass. The focus shifts on Kajal as she gets saved every week, she could be the Ariyana of this season. However, the fight between Siri and Kajal will beckon from next week's elimination battle.
Bigg Boss Telugu 5 Online Voting Results 11th Week Nominations List
Pinky
Siri
Shanmukh
Maanas
Kajal
Sunny
Sriram
Anee
Bigg Boss Telugu 5 Online Final Voting Results Eleventh Week – Bigg Boss 5 Telugu Unofficial Voting Week 11
Priyanka – 7% votes
Siri – 9% votes
Shanmukh – 19% votes
Maanas – 11% votes
Kajal – 10% votes
Sunny – 21% votes
Sriram – 17% votes
Anee – 6% votes