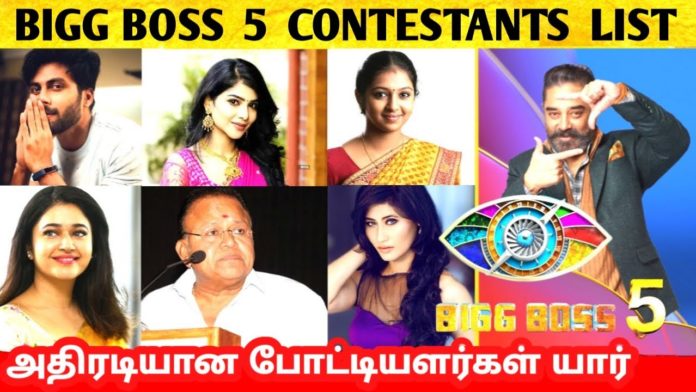 Big Boss Season 5 is one of the most anticipated reality shows that viewers are looking forward to watching in 2021. Following the end of Bigg Boss Season 4, which ended in January 2021, fans are still questioning when Bigg Boss Season 5 will begin.
The highly anticipated Big Boss Season 5 is expected to launch in June 2021. It is also rumored that actor Simbu will be hosting the Bigg Boss show instead of Kamal Haasan.
Similarly, there has been a lot of talk in the last few weeks about the celebrities attending Bigg Boss Season 5 as contestants. The list of celebrities who are rumored to be attending Bigg Boss Season 5 has been released.
Bigg Boss 5 Tamil contestants probable list
Four celebrities from Cook with Comali season 2 is expected to participate in BB5 Tamil. They are
Sunita
Ashwin
Darsha Gupta
Pavithra Lakshmi
Some of the actors and actresses who are expected to participate in BB5 Tamil are
Actor Azeem
Actress Radha
Radha Ravi
Lakshmi Menon
Sona
Lakshmi Ramakrishnan
Poonam Bajwa
Mansoor Ali Khan
RJ Vinoth
Though this is not a confirmed list, and it might be a totally different set of contestants when the show officially starts airing in June 2021.