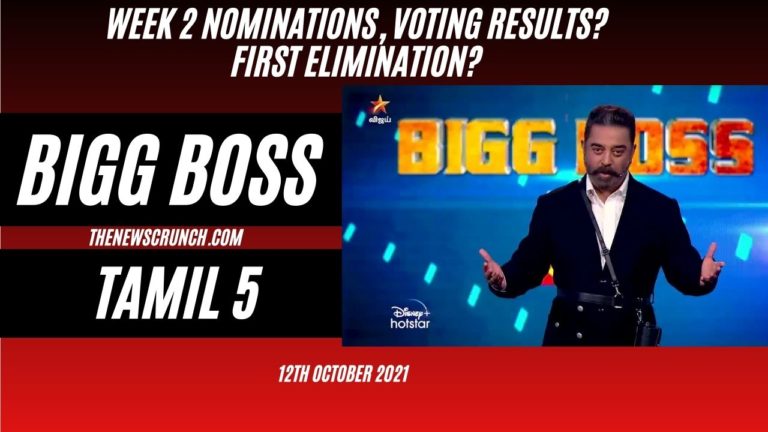 Bigg Boss 5 Tamil enters its second week on a very promising note. The first-ever nominations task of Bigg Boss Tamil Season 5 resulted in unveiling the game faces of almost all the seventeen contestants. However, the voting results of Bigg Boss 5 Tamil for the second week's elimination will be an eye-opener for the audience.
With almost the entire Bigg Boss 5 Tamil house in nominations, the audience finds it tough to vote for their favorites. In these early days, the contestants with the least coverage or poor alliance will be voted out. However, the unofficial voting results for week 2 eviction are inconclusive at the moment.
Bigg Boss 5 Tamil Nominations List Week 2
Isaivani
Imman Annachi
Priyanka Deshpande
Abhishek Raja
Akshara Reddy
Abhinay Vaddi
Nadia Chang
Ciby
Niroop Nandakumar
Madhumitha
Suruthi
Chinna Ponnu
Iykki
Raju
Varun
Bigg Boss 5 Tamil Voting Results Week 2 – 13th October
Isaivani – 5% vote share
Imman Annachi – 7% vote share
Priyanka Deshpande – 19% vote share
Abhishek Raja – 2% vote share
Akshara Reddy – 10% vote share
Abhinay Vaddi – 6% vote share
Nadia Chang – 7% vote share
Ciby- 5% vote share
Niroop Nandakumar – 9% vote share
Madhumitha- 5% vote share
Suruthi- 3% vote share
Chinna Ponnu- 1% vote share
Iykki- 5% vote share
Raju – 11% vote share
Varun- 5% vote share
**Other candidates did not record significant vote share. Newscrunch will update the vote share from unofficial voting polls on a daily basis.
Bigg Boss 5 Tamil Week 2 Voting Results & Analysis – Day 2 – 13th October 2021
On Day 9 in Bigg Boss Tamil house, the grand alliance of Niroop, Abishek and Priyanka is testing the waters. Abishek is in clear danger of elimination this week. However, will Niroop and Priyanka dig his grave?
Chinna Ponnu is trailing the voting race for week 2 with the least amount of votes. However, her gap is quite close with Suruthi and Abhishek.
If the makers choose to retain Abhishek for his content, Chinna Ponnu will be the obvious eviction.
Akshara's impressive run in terms of audience support continues as she shares the top 3 spot with Raju.
Ciby, Varun and Abhinay's alliance is yet to gain some traction and visibility. However, the ladies are dominating the proceedings so far in the Bigg Boss Tamil Season 5 house.
Suruthi, Madhumitha and Isai Vani are trying to carve out their identity while the remaining contestants like Priyanka, Pavni and Akshara cruise ahead in the show.
The continuation of the journey task could impact the voting results based on the sympathy of the story line.
Captain Thamarai Selvi was safe from the nominations this week.
Bigg Boss 5 Tamil Top 3 Contestants
Bigg Boss 5 Tamil Bottom 3 Contestants
Chinna Ponnu
Suruthi
Abhishek
Bigg Boss 5 Tamil Missed Call Numbers
These are the missed call numbers for contestants:
| | |
| --- | --- |
| Contestant | Missed Call Number |
| Vote for Priyanka Deshpande | 8367796814 |
| Vote for Isai Vani | 8367796807 |
| Vote for Abishek Raaja | 8367796802 |
| Vote for Namitha Marimuthu | 8367796811 |
| Vote for Abhinay Vaddi | 8367796801 |
| Vote for Pavani Reddy | 8367796813 |
| Vote for Imman Annachi | 8367796806 |
| Vote for Akshara Reddy | 8367796803 |
| Vote for Nadia Chang | 8367796810 |
| Vote for Varun | 8367796818 |
| Vote for Iykki Berry | 8367796808 |
| Vote for Shruti Jeyadevan | 8367796816 |
| Vote for Thamarai Selvi | 8367796817 |
| Vote for Ciby Chandan | 8367796805 |
| Vote for Niroop Nandhakumar | 8367796812 |
| Vote for Raju Jeyamohan | 8367796815 |
| Vote for Chinna Ponnu | 8367796804 |
| Vote for Madhumitha | 8367796809 |
Bigg Boss Tamil Season 5 Voting Methods
There are two voting methods by which the viewers can cast votes for their favorite contestant. One is an Hostar App Voting, and the other is by Missed Call Voting.
The step-by-step procedure on "How to Vote for Bigg Boss Tamil Online through Hotstar?" has given below. The contestants who fail in convincing the audience may eliminate from the show.
How to Vote Bigg Boss Tamil Online on Hotstar App
For your queries on "How to Vote for Bigg Boss Tamil?" below are the answers:
Download Hotstar App from Google Play Store or App Store
Create or login to your account on Hotstar App
Search for 'Bigg Boss' using the search box on the top right.
Select the Bigg Boss Tamil Season 5 show banner.
Now, you will find a Voting option below the latest Bigg Boss Tamil video
Click the Vote button to cast your votes
Images of Nominated contestants will appear on the screen
Tap on your favorite contestant and split your votes
You can vote a maximum of 50 votes a day (Voting closes at midnight)
Vote For Bigg Boss Tamil 5 Contestants through Missed Call
Also, the missed call voting can be done with the < firm>Missed Call Numbers provided for each contestant. To vote for your favorite contestant in Bigg Boss, give a missed call to the below-mentioned mobile number. A maximum of 10 calls per number is counted for a week, and the calls after that will not be considered for voting. You can vote for your favorite contestant by giving a missed call to the number.