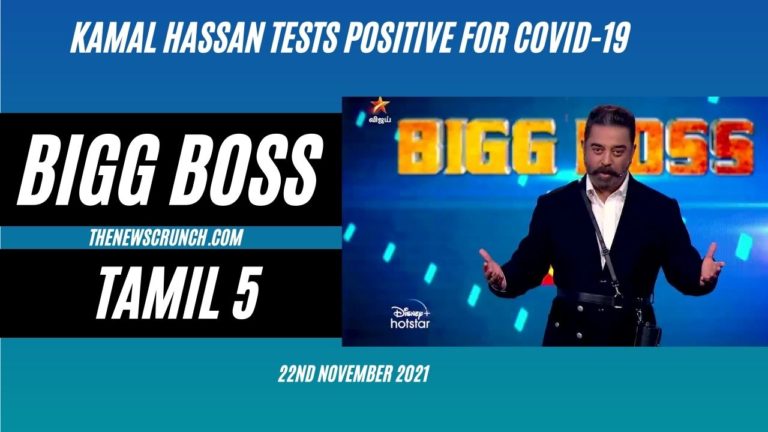 Bigg Boss 5 Tamil completed seven weeks last weekend. The host Kamal Hassan hosted the weekend episodes which saw the eviction of Isai Vani. However, a shocking news is reported about the actor cum host of Bigg Boss 5 Tamil as he tested postiive for Covid 19.
The Covid-19 bubble of Bigg Boss 5 Tamil is now breached as the host Kamal Hassan tested positive for the Covid-19 virus. Incidentally, multiple members of the production team tested positive in the previous season of Bigg Boss 5 Tamil. However, the production team affirms this shocking news is due to Kamal Hassan's recent international travel.
அமெரிக்கப் பயணம் முடிந்து திரும்பிய பின் லேசான இருமல் இருந்தது. பரிசோதனை செய்ததில் கோவிட் தொற்று உறுதியானது. மருத்துவமனையில் தனிமைப்படுத்திக் கொண்டுள்ளேன். இன்னமும் நோய்ப்பரவல் நீங்கவில்லையென்பதை உணர்ந்து அனைவரும் பாதுகாப்பாக இருங்கள்.

— Kamal Haasan (@ikamalhaasan) November 22, 2021
On Sunday's episode, the host Kamal Hassan revealed his short trip to Chicago, United States. Kamal Hassan went to Chicago to promote his handloom fashion brand 'House of Khaddar'. However, the host Kamal Hassan returned immediately to the Bigg Boss 5 Tamil sets in EVP Film City, Chennai for the weekend episodes shoot. Kamal Hassan mentioned the presence of mild cough after his return from the United States. However, the tests confirmed the suspicion of Covid-19.
This news comes as a tough one for Kamal's fans and the audience of Bigg Boss 5 Tamil. However, the question arises as to who will be the host of Bigg Boss 5 Tamil in the upcoming weekend of Bigg Boss 5 Tamil.