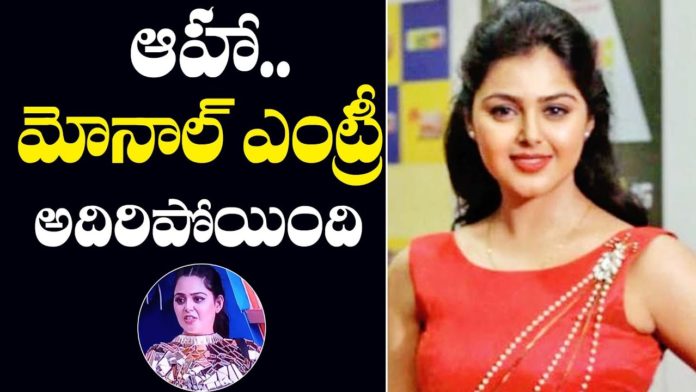 Bigg Boss 'adopted daughter Monal's' resurrection makes players tremble until yesterday who feel that we are a grove, Especially if I'm not Monal .. Monal is giving shocks to Akhil who said that she came here just because I support her.
Monal's playstyle has changed ever since her parents announced the list of the top 5 contestants. Performs to cover the mouths of those who have ridiculed the game. It is not an exaggeration to say that Monal was the spectator, especially given her shoulder's strength that made Harika the captain.
But where do the votes for Monal, who has been nominated 9 times in the last 11 weeks, come from? Who is casting ?? Monal was not saved in terms of votes. Without Monal, there would be no spice content in the Bigg Boss house. Even the audience who sees the show thinks it is real. While strong contestants like Devi, Kumar Sai, Divi, and Lasya are being eliminated, Monal's saving has raised suspicions.
But is Bigg Boss really saving Monal for rating without getting votes for Monal? Or will Monal really be saved by the votes of the audience? That aside, in 12 weeks, the scene has completely changed. Monal, in particular, seems to have an aura with better play.
The way Monal fought to make Harika the captain was amazing. In those years, Akhil fell into a trance and moved away from the game to the Independent. However, Akhil disturbs my game because of you.
Hot discussions took place between Akhil and Monal in Monday's nominations. Especially with the discussions between Akhil and Monal, the story between them seemed to reach the fence. Monal gave Jhalak to Akhil, who had nominated her twice while staying close with Monal in the past. Akhil, who was nominated in the 12th week, tried to persuade Monal to swap (instead of being nominated by someone else) but said that he was not nominated for you.
However, Harika, who became the captain of Bigg Boss House due to Monal, used her captaincy power to save Abhijit and push Monal into the nominations. With this, Monal, Akhil, Ariana, and Avinash stood in the nominations for the 12th week. One of these four is about to be eliminated.
However, given the current voting trend, Monal is getting an unexpected number of votes. At the same time, all Abhijit fans are voting for Monal. Harika fans are also standing in support of Monal by making Harika the captain. With this, Akhil, who is in the title race, is falling behind.
If you look at the current voting pattern, Monal is getting almost 50 percent voting. Akhil is next with 25 percent votes. However, Ariana was third with 15 percent votes while Avinash was last with 10 percent votes. Avinash is likely to be eliminated if the same trend continues. However, Bigg Boss is going to give a twist in Tuesday's episode. The four nominated contestants are given a task, and one of them is given a chance to be saved. Moreover, it seems that the saved contestant will also get immunity for two weeks. If Avinash gets this immunity Ariyana or Akhil will be in danger.