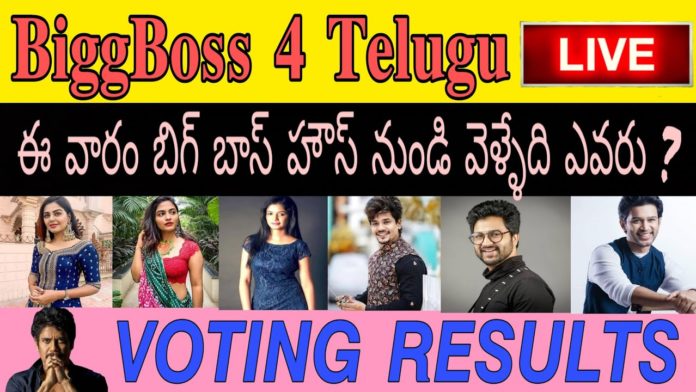 The latest voting results of Bigg Boss Telugu shows Mehboob and Monal trailing. Out of these two one might get eliminated this week or there wont be any elimination this week due to Diwali.
Bigg Boss 4 Telugu enters the second day of voting for the 10th week as the nominated contestants fight hard for staying inside the house. At the start of this week, Bigg Boss Telugu will complete nine weeks (63 days). Three wildcard entries entered the house so far, and nine contestants were evicted or left the house for medical reasons. Amma Rajashekar was the last contestant to leave the house. This week there will be an elimination depending on the vote count. Also, there is a new wild card this week to spice things up, but she is not in the nomination as she had just entered the house.




Six contestants were nominated for elimination in the 10th of Bigg Boss Telugu season 4. This elimination will be a critical one for Mehaboob as he is likely to be eliminated next week if nominated. Harika and Monal are nominated this week, but the duo is likely to be safe for another week as fans are voting for them.
Bigg Boss 4 Telugu Elimination Nominations List 10th Week
Mehboob
Monal
Ariyana
Abhijeet
Sohel
Harika
Bigg Boss 4 Telugu Elimination Vote Results on 13th November 2020
It looks like there might be a twist in the 10th week voting on Bigg Boss. The speculation was that Mehaboob would be eliminated this week as he has the lowest votes, but Bigg Boss might save him once again as this is Diwali week and there might not be any elimination.
Captaincy will play a crucial role this week as the number of contestants in the house reduces by the week. Captaincy guarantees safety from the stringent elimination situation of Bigg Boss 4 Telugu in the upcoming weeks. Ariyana was the captain of the last week and was safe from elimination nominations for week 9.
But this week there will be no captain as Amma Rajasekar the captain of 10th week was eliminated on Sunday.
As expected, Abhijeet swept the voting results for the ninth elimination right from the first day. The same voting trends are expected to continue this week as well. With a whopping vote share, Abhijeet's fans are alive and kicking. Abhijeet's performances in elimination voting results have been phenomenal throughout the season, next only to Gangavva.
Ariyana and Mehaboob bag the bottom two positions. Avinash's downfall in popularity after the spat with Noel Sean in front of Nagarjuna is significant. Mehboob was in contention for elimination last week, but he was safe due to Amma Rajashekar's eviction.
Mehboob is at the bottom of the voting results for week 10. Hence, Mehboob's journey is likely to end this week in Bigg Boss 4 Telugu. But there might be twisting a
Bigg Boss Telugu Season 4 Vote Results Live Score Day 3, 13th November 2020
Abijeet

 33.68%

  (46,978 votes)

Ariyana

 18.33%

  (25,562 votes)

Sohel

 15.5%

  (21,614 votes)

Harika

 14.03%

  (19,562 votes)

Monal

 12.47%

  (17,387 votes)

Mehaboob

 5.99%

  (8,364 votes)
Which Contestants Are Safe This Week in Bigg Boss 4 Telugu Elimination?
Abhijeet, Ariyana, and Sohel are safe from elimination in the 10th Week of Bigg Boss 4 Telugu.
Which Contestants Are in Danger This Week in Bigg Boss 4 Telugu Elimination?
Mehboob and Monal, with the least votes on the 1sth day, are more likely to get eliminated on Sunday.
Who is entering Secret room this week
Akhil is expected to enter the secret room this week, and there may be no eviction. We will have to wait and watch.
Bigg Boss 4 Telugu Vote Online
How to vote in Hotstar for Bigg Boss Telugu Season 4 Disney+ Hotstar App?
Open Play Store or iOS Appstore in your Mobile.
Search for the " Disney+ Hotstar " app and Install the latest version.
Now open the Hotstar app.
Go to the "Bigg Boss Telugu" page.
Below the stream, you will find an option to vote.
Click the "Vote now" button.
Choose your Favourite Contestant.
You have 50 votes each day to vote for Bigg Boss Telugu 4.
Missed call voting method is also available, and that information is given below.
Bigg Boss Telugu 4 Missed Call Numbers Week 10
[poll id="3″]