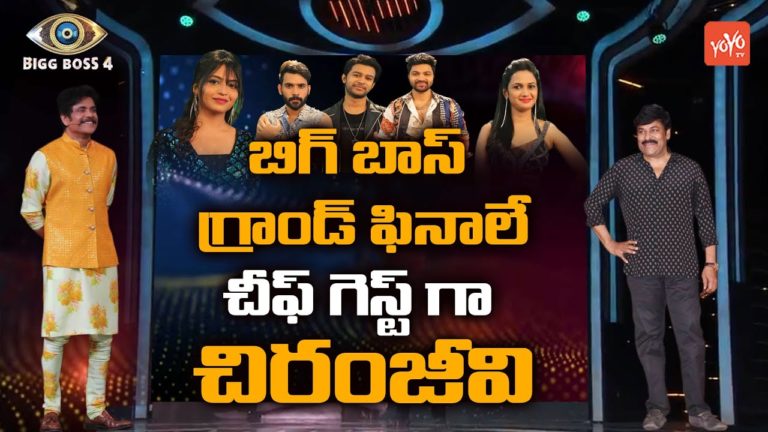 Nineteen people fought for the Bigg Boss Season 4 Title and in the end only five contestants remain. Harika, Ariyana, Sohel, Abhijeet, and Akhil are the top 5 contestants competing for the title. The winner will be decided in another three days. The Bigg Boss organizers are planning to make the grand finale, which will be held on 20th December in a grand style, as grand as ever. As part of this, the star hero will be brought in to announce the winner and there will be dance events. The Bigg Boss team is already in talks to release a special guest.
It was rumored that Young Tiger Jr. NTR, who had been the host of the first season of the reality show, would be the special guest. No official statement has been released on this. However, according to the latest information, it seems that Megastar Chiranjeevi, who came to the grand finale last season and declared Rahul Sipliganj as the winner, is coming once again. Chiranjeevi is busy shooting for Acharya at Ramoji Rao film city and has given consent to participate in the grand finale. Also, it seems that heroines like Lakshmi Rai and Mehreen will be performing special dance events. They are accompanied by another heroine Monal. Also, the eliminated Bigg Boss contestants will all join in this special event.
There was no special guests for the first season Grand Finale where Jr. NTR was the host. He was the one who declared Shivabalaji as the winner and congratulated him. In the second season of Nani was the host, Victory Venkatesh came and presented the trophy to Kaushal Manda. In the third season hosted by Nagarjuna, Megastar Chiranjeevi was the special guest and made the episode a mega success by announcing Rahul Sipliganj as the winner.
The grand finale episode, which lasted for four and a half hours, received 18.29 TRP while Megastar received 22.4 TRP in the live final hour. Abhijeet is topping in unofficial voting polls across various media portals and social networking sites. He might be the winner of this season. The runner ups would be a tough call as three contestants with equal voting shares are competing for this position.
If you want to know who is the lucky contestant who will receive the trophy at the hands of Megastar, you have to wait till Sunday.