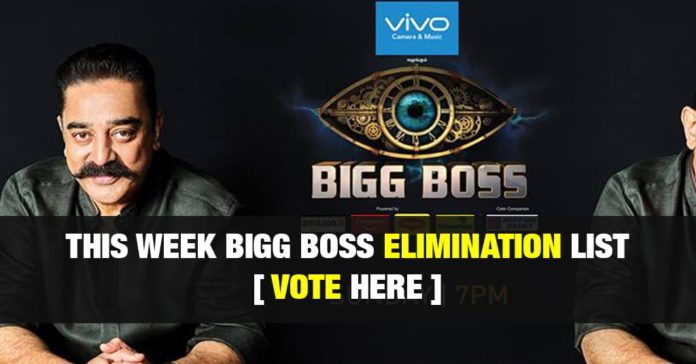 Bigg Boss 4 Tamil, as days go by, is becoming unpredictable. On one side, The prejudices that people had been broken into pieces. On the other hand, The nicest of all has turned out to be short-tempered. Adding more Spice to the show, There is a new wildcard entry, VJ Archana. She is an infamous TV show anchor who has hosted many shows and award functions. However, One person has to be eliminated from the show this week. The person exiting will be compensated by the wild card entry.
Bigg Boss 4 Tamil Nominated Contestants for Eviction:
These are the seven contestants nominated for the first elimination in the show:
Sanam Shetty
Samyuktha
Gabriella Charlton
Ramya Pandian
Aajeedh
Rekha
Shivani Narayanan
Bigg Boss 4 Tamil Voting Results Day 5(Last Day):
Shivani 24%
Ramya 22%
Sanam 14%
Aajeedh 13%
Gabriella 10%
Samyuktha 9%
Rekha 8%
According to the online poll, The contestants having the least number of votes are Samyuktha and Rekha. However, Shivani and Ramya Pandian will escape this week's eviction as per the results. They have received the most number of votes compared to the other contestants.
Rekha doesn't seem to be too involving in the tasks. The contestants and the audience did not like Rekha much because of her dominant nature, which she tried to change over time. But the first impression has an immense effect. Her lackluster attitude is one of the primary reasons why she might not have received many votes.
Shivani is her best self, not being influence by any other contestant and playing her game. However, The smart play award in the eviction free pass task goes to Ramya Pandian for her Brilliant play. In the Day 5 promo, Suresh Chakravarthy is the only person who stands up for Gabriella in the daily task. Gabriella becomes emotional and hugs him heartfully.
Contestants in the Danger of Elimination:
Contestants Saved From Elimination:
Shivani Narayanan
Ramya Pandian
Gabriella
Aajeedh
Bigg Boss 4 Tamil Vote Through Missed Call:
Shivani: 8367796813
Ramya:  8367796808
Sanam: 8367796815
Rekha: 8367796809
Gabriella: 8367796805
Samyuktha: 8367796811
Aajeedh: 8367796801
Follow thenewscrunch for more updates on Bigg Boss 4 Tamil. Show your support for your favorite contestant in the comment section. Do you think BiRekha will be eliminated this week?