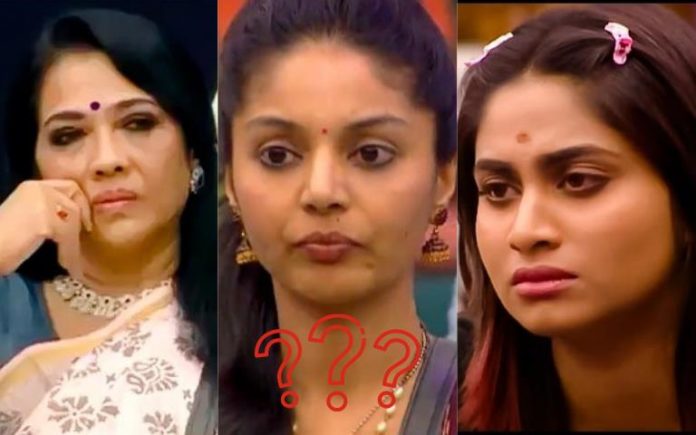 The second week of Bigg Boss 4 Tamil has come to an end. The audience are eagerly awaiting for Kamal Hassan to address the contestants in the house. One contestant will be eliminated from the show tomorrow. Among the contestants nominated, Aajeedh has the least chance of getting eliminated because of his "eviction free pass". In the first week task "Kandanthu Vantha Paadhai", The contestants who didn't sound very inspiring were nominated except Suresh Chakravarthy since he is the captain of week 2.
Bigg Boss 4 Tamil Contestants Nominated For Eviction Week 2:
Ramya Pandian
Shivani Narayanan
Sanam Shetty
Gabriella Charlton
Aajeedh Khaliq
Samyuktha
Rekha
Bigg Boss 4 Tamil Live Voting Results First elimination Week 2:
According to the reports, Rekha has the least number of votes and will be the first contestant to leave the show. However, Not many people have warmed up to Rekha. The first week had gone by with her being dominant and ordering the ordering around the other contestants in the house. Many contestants gave her broken heart in the very second day because of her dominant nature of asking others to do the household chores. Anyhow, she tried to change her manner towards the contestants but the audience hadn't felt the connection much with Rekha.
The confirmed saved contestants for this week are:
Ramya Pandian
Shivani Narayanan
Aajeedh Khaliq
Gabriella
Shivani Narayanan and Ramya Pandian have won the hearts of people in two weeks. Shivani elegantly being herself despite receiving many broken hearts in the task, she managed to attract the audience by being the way she is. Ramya Pandian built a huge fan following after the Eviction free task after she stood up against Suresh Chakravarthy's tactics.
Bigg Boss 4 Tamil Rekha is in the Danger of  Elimination?
Samyuktha, Sanam Shetty and Rekha are the least three contestants. Rekha is followed by Sanam Shetty pretty closely. However, Sanam Shetty has won the daily task conducted this week and saved herself from getting nominated next week. Since The online voting poll says that Rekha will be eliminated this week, Sanam's effort in winning the daily task wouldn't go into the bin. Show your support for your favorite contestant in the comment section. Follow Thenewscrunch for more updates on Bigg Boss 4 Tamil.