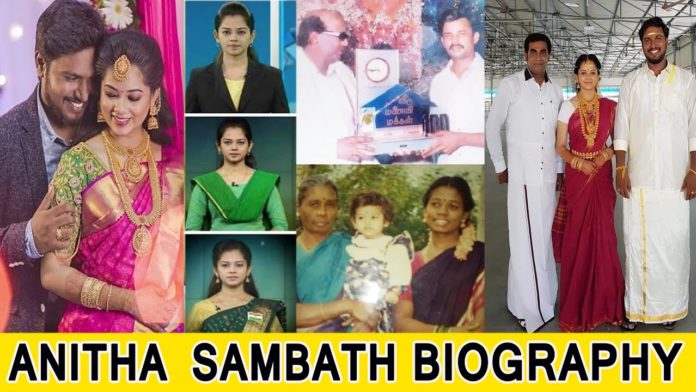 Anitha Sampath is one of the trending stars these days due to her stint at Bigg Boss house. She was one of the strongest contestants at the Bigg Boss house who stood against groupism and single-handedly tackled many issues. She even played the topple card to her advantage to save her from eviction. It's now confirmed that Anitha Sampath's father passed away today morning due to cardiac arrest.
RC Sampath is a famous writer, and Anitha has high regard for him. Anitha Sampath was evicted from Bigg Boss house last week, and her father's death has come as a shock to many, including her fans. Anitha Sampath even tackled the trollers and cyberbullies after coming from Bigg Boss house by giving them strong replies on social media.
#BiggBossTamil #AnithaSampath dad passed away. RIP 🙏🏻 pic.twitter.com/We1oRnNQe7

— Woods Update (@Woods_Update) December 29, 2020

Anitha considers her father as an idol, and his loss is irreplaceable. We at TheNewsCrunch offers our condolences to Anitha and her family. Netizens are tweeting and offering their condolences on social media.
#BiggBossTamil #AnithaSampath dad passed away. RIP

— Sathish Kumar M (@sathishmsk) December 29, 2020
#BiggBossTamil4 contestant #AnithaSampath father writer RC Sampath passed away today, due to cardiac arrest… #RIP pic.twitter.com/7qkMaV8Tx5

— Screen4Screen (@screen4screen_) December 29, 2020
Shocking – It's a bitter moment. #biggbosstamilseason4 #AnithaSampath father-writer #RCSampath passed away due to cardiac arrest. RIP Sir pic.twitter.com/H6uZ7A47Ax

— Richard Mahesh (@mahesh_richard) December 29, 2020
Who'll be evicted from the #biggboss house THIS WEEK?#PowerOfAariArmy#BiggBossKingAARI#BiggBossTamil4 #BiggBoss4Tamil #BiggBossTamil #BiggBoss4 #biggbossseason4 #BiggBoss #பிக்பாஸ் #AariArjunan #Som #AnithaSampath #Gabi

Vote here 👇👇👇👇👇 https://t.co/fmxfOl3OhL

— Vinshakar A. (@vinshakar) December 29, 2020
#BiggBossTamil #AnithaSampath dad passed away. RIP

— Cinema Bugz (@news_bugz) December 29, 2020