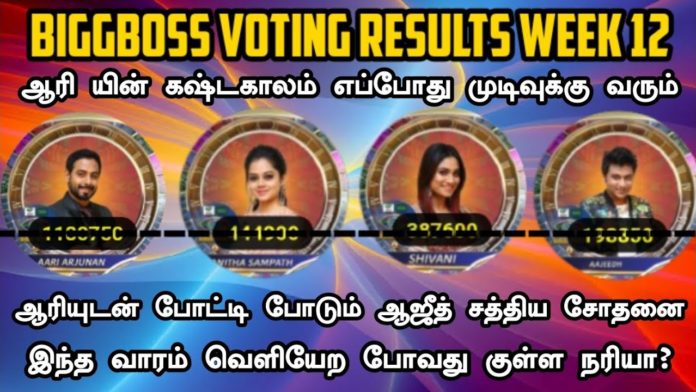 Bigg Boss Tamil Season 4 enters the final day of voting for a gripping twelfth week. Five contestants were nominated for eliminations in week 12 of Bigg Boss 4 Tamil. Ten eliminations took place so far and Archana was the last contestant to be evicted. A major twist was witnessed in this week's voting results as Anitha annoyed the audience with her rants during the nominations for the best and worst performers of the week.




The 'Ball catching' task's last day performances and the nominations for the best and worst performers for this week, is affecting voting results. Gabriella failed to impress in the 'Golden ball' round and ended up with zero points. Shivani failed to perform well which was not surprising. The prospects of either of the bottom three contestants leaving the house loom large though Anitha is at the bottom of the voting results from the first day.
This week's voting results are seeing healthy competition in the top of the voting polls as the top contestants like Rio and Balaji are safe in nominations. The presence of one contestant from the 'love bed group' gave the audience a week to shift focus on Shivani, Aajeedh and Anitha.
Bigg Boss Tamil 4 Voting Results Week 12 Eviction – 25th December 2020
Gabriella – 20% vote share (81,111 votes)
Aari – 42% vote share (169,432 votes)
Anitha – 7% vote share (28,796 votes)
Aajeedh – 9% vote share (36,832 votes)
Shivani – 22% vote share (88,727 votes)
Bigg Boss 4 Tamil Elimination Nominations List Week 12
Aari Arjuna
Anitha Sampath
Gabriella Charlton
Aajeedh
Shivani
Bigg Boss 4 Tamil Eviction Week 12 Voting Trends and Analysis
The luxury budget task of this week was concluded with an interesting final round. The 'Ball catch' task was an all-nighter for two consecutive nights and concluded with a 'Golden ball catching' round which brought interesting twists. Rio and Somshekar's performances in the task were noteworthy.
Shivani, Aajeedh, Gabriella and Anitha performed miserably during the final round and failed to use the opportunity to catch the golden balls.
Aajeedh lacked intent as usual and his performance curve is at an all time low. However, he is likely to be saved yet again by a whisker this week.
Gabriella's vote share is sliding but her performance in the luxury budget task and jail nomination is giving Shivani the edge.
Anitha is in grave danger of eviction this week as her nomination drama and poor task performance on all the days will reduce her prospects of getting saved on the final day of voting.
Captain Balaji was safe from nominations this week. 
Who Will Be Safe From Eviction This Week?
According to reports, Aari, and Shivani are likely to be safe this week.
Who Will Be in Danger of Eviction This Week?
According to reports, Anitha and/or Aajeedh are likely to be evicted this week.
How to Vote in Bigg Boss Tamil Season 4 Week 12 Elimination?
How to vote in Hotstar for Bigg Boss Tamil Season 4 Disney+ Hotstar App?
Open Play Store or iOS Appstore in your Mobile.
Search for the " Disney+ Hotstar " app and Install the latest version.
Now open the Hotstar app.
Go to the "Bigg Boss Tamil" page.
Below the stream, you will find an option to vote.
Click the "Vote now" button.
Choose your Favourite Contestant.
You have 50 votes each day to vote for Bigg Boss Tamil 4.
Missed call voting method is also available, and that information is given below.
Featured Image Poll results courtesy: tamilglitz