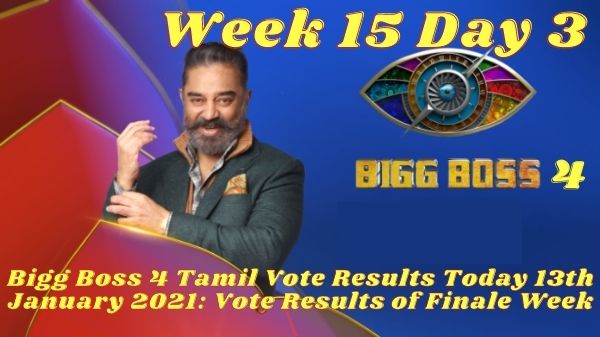 Bigg Boss Tamil Season 4 is all set to conclude an impactful final 15th week. All six finalists are in contention for winning the title during the final week 15 of Bigg Boss 4 Tamil. Thirteen eliminations took place so far and Shivani was the last contestant to be evicted. Evicted contestant Anitha entered the house on Wednesday amid an emotional day.




Housemates' emotional moments, entry of all eliminated contestants, and weekend praises from Kamal Hassan are impacting the audience mindset by considerable means. Somshekar's hope for revival is bleak from the first day of finale week voting and Ramya's lull game seems to be a huge negative for her prospects in the 'finale' week.
This week's voting results will see healthy competition in voting as the top contestants like Aari, Rio, Ramya, and Balaji are in the fray for winning the title of Bigg Boss Tamil 4. Aari dominates the voting results as predicted and the fans are on their toes to vote for him. The presence of all three contestants from the 'love bed group' in the bottom three gives the audience a week to shift focus on Rio and Balaji.
Bigg Boss Tamil 4 Vote Results Finale Week 15 Eviction – 14th January 2020
Aari – 46% vote share (138,415 votes)
Balaji– 16% vote share (64,100 votes)
Rio – 12% vote share (48,723 votes)
Somshekar – 7% vote share (28,717 votes)
Ramya – 10% vote share (40,228 votes)
Gabriella – 9% vote share (36,775 votes)
Bigg Boss 4 Tamil Finalists Week 15
Aari
Balaji
Ramya
Somshekar
Rio
Gabriella
Bigg Boss 4 Tamil 'Finale' Week 15 Eviction Voting Trends and Analysis
The entry of the evicted housemates including Anitha was the major highlight of last week. Aari and Rio entered the audience's hearts this week after the entry of the nostalgic happy and emotional moments video. Earlier this week, Balaji was dull and lost during the weekend episodes which was upsetting for his fans.
Ramya Pandian looks like a potential contender to grab the 'suitcase filled with cash' and walk out of the Bigg Boss house.
Gabriella's chirpy nature and good performances in the tasks were commendable but her probability of entering the top 3 during the finale week of Bigg Boss Tamil 4 is less.
Rio Raj jumped to the third position and the presence of Archana, Nisha, and Ramesh is boosting his morale in a positive way forward.
Somshekar continues to struggle at the bottom of the finalists' voting list and needs some extraordinarily trending moments to enter the top 3 before the last couple of days of voting.
Aari cruises with a massive lead over Balaji thanks to his support from other reentered contestants.
Balaji is thinking too much about his image outside the BB hosue and it is affecting his morale during the finale week.
Who Will Be in Top 3 From Eviction This Week?
According to reports, Aari, Balaji and Rio are likely to be in the top 3 this weekend.
Who Will Be in Danger of Eviction This Week With Cash Prize?
According to reports, Gabriella and/or Ramya to be evicted this week with a cash prize.
How to Vote in Bigg Boss Tamil Season 4 Week 15 Finale Week?
How to vote in Hotstar for Bigg Boss Tamil Season 4 Disney+ Hotstar App?
Open Play Store or iOS Appstore in your Mobile.
Search for the " Disney+ Hotstar " app and Install the latest version.
Now open the Hotstar app.
Go to the "Bigg Boss Tamil" page.
Below the stream, you will find an option to vote.
Click the "Vote now" button.
Choose your Favourite Contestant.
You have 50 votes each day to vote for Bigg Boss Tamil 4.
Missed call voting method is also available, and that information is given below.
Featured Image Courtesy: Prepareexams