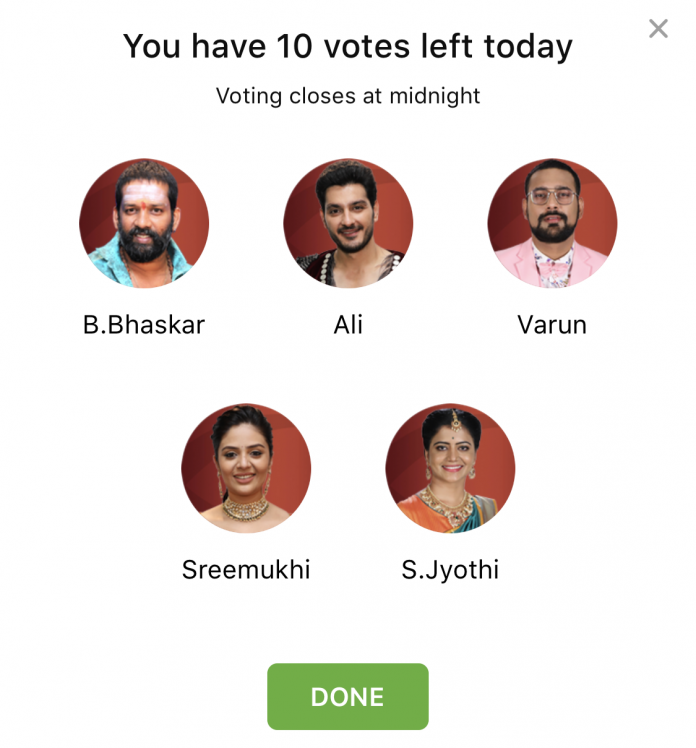 Bigg Boss 3 Telugu week 14 has reached a stage where only one day is left to vote for your favourite contestants as they face elimination. Totally five contestants are nominated for elimination this week they're Varun, Sreemukhi, Ali, Baba and Sivajyothi. Rahul won the ticket to finale and was saved from eviction and has entered directly to finals which is happening on 3rd November 2019. Voting is on full swing in Hotstar App as well as by giving missed calls to save their favourite contestants.




Who is safe this week from Eviction?
Rahul is safe as he won "Ticket to finale" Task. Varun is leading the voting polls by having 31% of votes. Varun's fans are voting and supporting him in full swing. Since Vithika is eliminated now her fans are voting for Varun and hence his voting percentage has increased and he is leading the voting polls. He is almost safe from elimination.
Sreemukhi trails behind Varun but Sreemukhi army is also voting in full swing as they want to compete against Rahul Army in the final week of Voting. Hence they're voting for Sreemukhi to win this week's voting poll. She is second in voting with 25% Vote.
Who are in danger of eviction this week?
Ali Reza who has returned as a wild card entry is in danger of eviction has is voting percentage has depleted. Baba Bhaskar is a favourite contestant but unfortunately his voting percentage is less too and is facing eviction. The fans should vote for Baba Bhaskar to ensure he gets saved this week and enter final week. Shivajyothi is trailing at last as she has not gained as much votes as the other and may get eliminated if fans dont vote for her in the last day of voting.
Bigg Boss 3 Telugu missed call numbers to vote for Thirteenth Final Elimination Week 14:
Varun Missed Call number – 8466 996 714
Sreemukhi Missed Call number – 8466 996 713
Ali Reza Missed Call number – 8466 996 711
Baba Bhaskar Missed Call number – 8466 996 708
Siva Jyothi Missed Call number – 8466 996 701
You can vote online through Hotstar app searching for Bigg Boss Telugu. You can give upto 10 votes daily.
Bigg Boss Telugu 3 Elimination Voting Results for Final Thirteenth Elimination
Which Contestant Will Get Saved This Week?