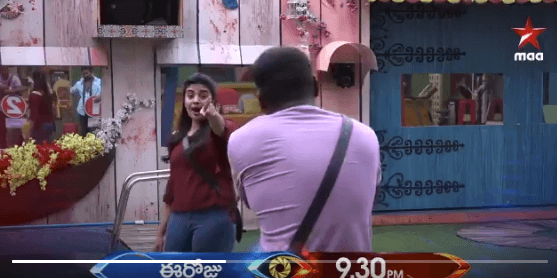 Bigg Boss 3 Telugu 14th October 2019 starts with nomination task where the housemates draw numbers between 1 and 7, then stand accordingly. Then they argue who is top 5. While Sreemukhi is standing at no 7 and Rahul at no 2 there starts war of words between those two as who deserves no. 2 spot. Sreemukhi says Rahul doesn't deserve no. 2 spot while Rahul gets angry and challenges Sreemukhi. Then an intense fight broke between those two and Sreemukhi calls Rahul Nobody and Rahul gets shocked by these words and repeats the same at Sreemukhi. Who according to you deserve position no.2, Sreemukhi or Rahul Vote below.
Update – Bigg Boss 3 Telugu October 16 Voting results – Rahul leads the voting, who is in danger
Updatee – Bigg Boss 3 Telugu Week 13 nomination list is here, Vote for your favourite contestant.




War of words between #Rahul & #Sreemukhi#BiggBossTelugu3 Today at 9:30 PM on @StarMaa pic.twitter.com/RgU5SE1Mc3

— STAR MAA (@StarMaa) October 14, 2019