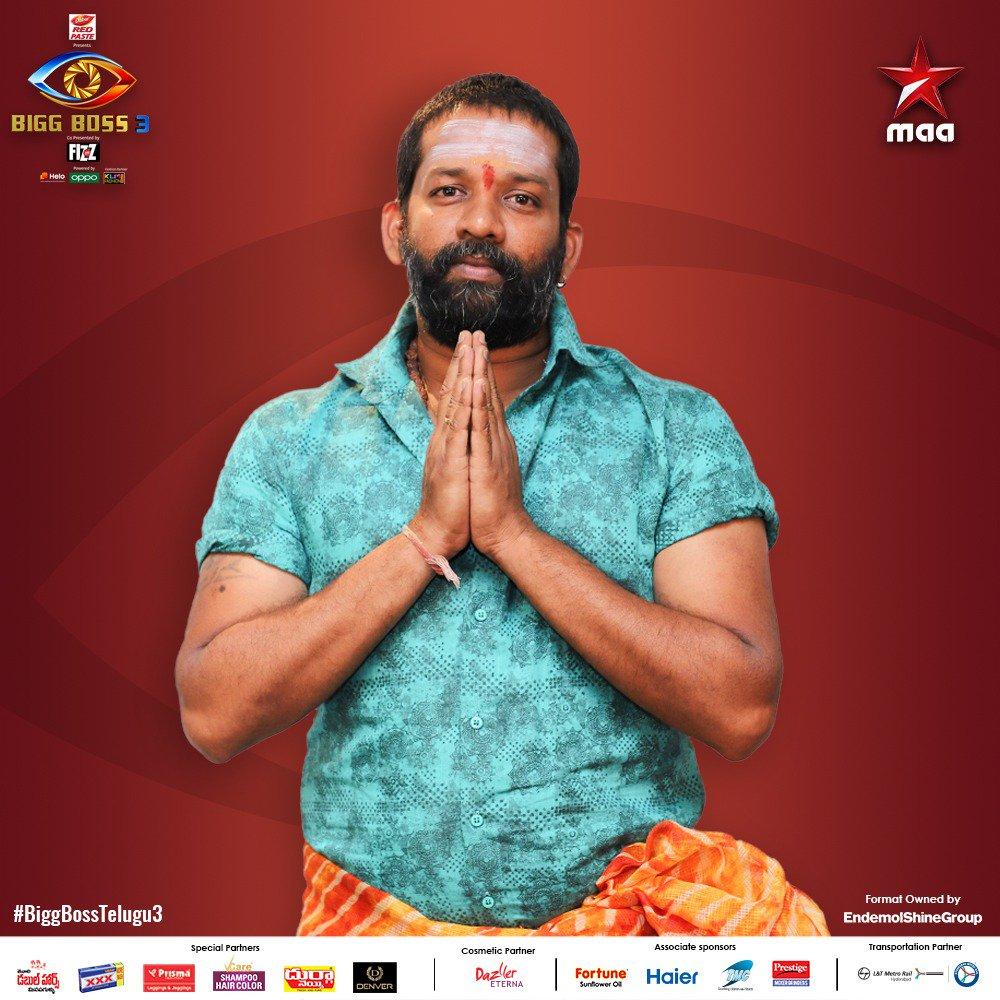 Big Boss Telugu Season 3 is burning the TRP charts and the sensationalism in the Telugu version of Bigg Boss is at an all time high. The spat between the husband-wife duo, Vithika and Varun, Himaja stepping up for attention, Hema's shocking confessions post evictions is working in the show's favor and Baba's rise at a genuine character are working in the show's favor.
Hema, Jaffar, Tamannah, and Rohini  are eliminated from the show as of now.
How Did the Nominations Take Place?
The fifth elimination nominations took place in a unique way. The contestants had to apply red colored powder on the faces of the contestant they wish to nominate for eliminations this week. Few contestants who took black colored box had to do a closed nomination.




Rahul Sipligunj got the most number of votes and Baba Bhaskar got just one vote but that was from the captain
The contestants who face the risk of the fifth elimination this week are :
Rahul Sipligunj
Himaja
Aashu
Mahesh Vitta
Punarnavi
Siva Jyoti
Baba Bhaskar (direct nomination by Captain)
Himaja – Aashu Spat Widens
Himaja and Aashu nominated each other and their rift widened with their nomination explanations.
Rahul and Punarnavi shared a special bond but he was unfortunately nominated by Punarnavi. Considering Rahul got the highest number of nominations this week and was a likely contestant to be eliminated last week, the Punarnavi-Rahul story might see a sad end this weekend.
Baba Bhaskar Frustrated For Being Nominated!
Baba Bhaskar was confused when the Bigg Boss announced his name in the list of nominations. He was clarified by fellow contestants that he was a direct nomination by the captain. Baba Bhaskar was saved by a whisker last week and his nomination this week puts him in a tough spot. Shreemukhi tries to convince Baba Bhaskar but the game begins now for him and his fellow contestants.
Bigg Boss 3 Telugu missed call numbers to vote:
| | | |
| --- | --- | --- |
| No | Contestant | Number |
| 1 | Ravi Krishna |  8466 996 702 |
| 2 | Mahesh Vitta | 8466 996 712 |
| 3 | Rahul Sipligunj | 8466 996 706 |
| 4 | Punarnavi | 8466 996 709 |
| 5 | Aashu Reddy | 8466 996 703 |
| 6 | Baba Bhaskar | 8466 996703 |
| 7 | Himaja | |
Who will be eliminated this week in Bigg Boss Telugu 3? Let us know in the comments below..