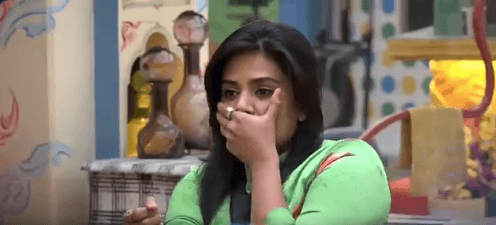 Bigg Boss 3 Telugu is entering its 13th week with a gripping elimination nominations task. All the contestants had to participate in the twelfth elimination nominations task and there was no privilege for any contestant. Mahesh was the last contestant to be eliminated in Bigg Boss Telugu 3.
Update – Bigg Boss 3 Telugu October 16 Voting results – Rahul leads the voting, who is in danger
How Did the Twelfth Elimination Nominations Take Place?
The elimination nominations tasks are quite innovative in Bigg Boss Telugu 3. This week the contestants were asked to pick a chit from a bowl. Each chit had a number. Corresponding to each number was a position which the contestants had to take from 1 to 7. Each number had a box filled with some material like pearls, mud, dirty water, feathers, sand and so on. The respective contestants had to stand in their pits.
The initial positions taken by the contestants were as follows:-
1- Baba Bhaskar
2- Rahul
3- Varun
4- Ali
5- Siva Jyothi
6- Vithika
7- Sreemukhi
The initial positions taken by the contestants were as follows:-
1- Sreemukhi
2- Ali
3- Vithika
4- Rahul
5- Siva Jyothi
6- Varun
7-Baba Bhaskar
However, the contestants could justify and convince any contestant in a better position and take their position.
Siva Jyothi Gets Upset With Varun For Giving Up His Position For Vithika
Siva Jyothi tried to convince Varun to give up his position with certain justifications related to tasks. However, Varun refused to give up his position for her. However, Vithika's justifications convinced Varun to give up his position. Siva Jyothi was furious because she felt Varun gave up his position for Vithika because she was his wife and he did not see her as a contestant.
Sreemukhi and Rahul Get Into a Huge Fight!
While Sreemukhi is standing at no. 7 and Rahul at no. 2 there starts war of words between those two as who deserves no. 2 spot. Sreemukhi says Rahul doesn't deserve no. 2 spot while Rahul gets angry and challenges Sreemukhi. Then an intense fight broke between those two and Sreemukhi calls Rahul Nobody and Rahul gets shocked by these words and repeats the same at Sreemukhi.
The contestants who face the risk of the twelfth elimination this week are :
This week's nominations will be an exciting one to watch as all the contestants who were nominated were touted as favorites to enter the finals of Bigg Boss Telugu 3.
Sreemukhi
Ali
Vithika
Varun
Rahul Sipligunj
Siva Jyothi
Baba Bhaskar
Bigg Boss 3 Telugu missed call numbers to vote for Twelfth Elimination Week 13:
| | | |
| --- | --- | --- |
| No | Contestant | Number |
| 1 | Vithika | 8466 996 715 |
| 2 | Varun | 8466 996 714 |
| 3 | Rahul Sipligunj | 8466 996 706 |
| 4 | Siva Jyothi | 8466 996 701 |
| 5 | Baba Bhaskar | 8466 996 708 |
| 6 | Ali | 8466 996 711 |
| 7 | Sreemukhi | 8466 996 713 |
Bigg Boss Telugu 3 Elimination Voting Results for Twelfth Elimination
Which Contestant Will Get Saved This Week?