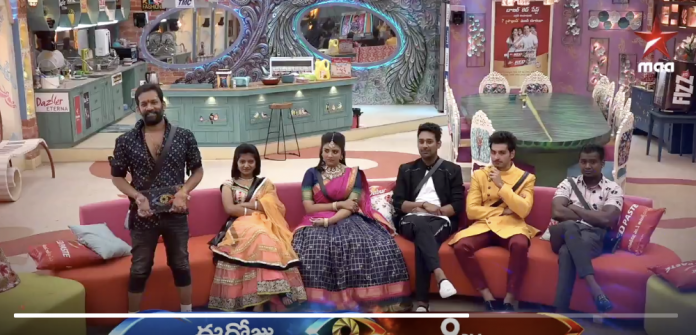 Bigg Boss 3 Telugu has reached the weekend before finale which means one of the five contestants are getting eliminated today. Yesterday it appeared that Baba was safe from eviction with a ticket to finale card. An earlier promo for 27th October, 2019 also confirmed that Baba Bhaskar is safe as the other four contestants were discussing who is going home.




Varun who has the maxium no of votes also appeared nervous as he was not saved by Bigg Boss. Sreemukhi was not confident about staying and Ali with Sivajyothi looked nervous too as they were wondering who is going home today before finale week. Baba appeared safe and he was singing, then Nagarjuna called Baba and asked him why he appears carefree.
He told Nagarjuna that he is safe from eviction with ticket to finale card. Then Nagarjuna told him that it's a fake ticket to finale card and he is also in eviction list. Nagarjuna stressed that Baba Bhaskar is in danger of going home. Does that mean Baba is getting eliminated tonight? We have to wait and watch tonight's episode. What do you think about it? Share your comments below.
#BabaBhaskar gets a blow from @iamnagarjuna #BiggBossTelugu3 Today at 9 PM on @StarMaa pic.twitter.com/otXZT5c0BC

— STAR MAA (@StarMaa) October 26, 2019