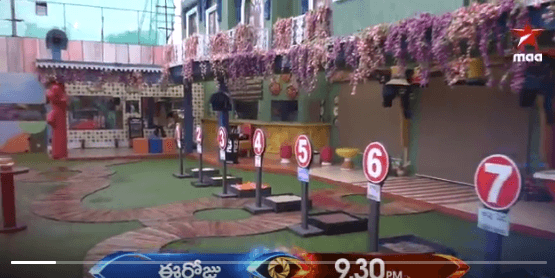 Bigg Boss Telugu saw a shocker yesterday on 13th October when Mahesh got eliminated from the house. Today being Monday 14th October there is a new nomination task called "Toppers of the house". In this task the housemates should discuss among themselves to decide who the top 5 contestants are (there are totally 7 contestants left). Numbers are set up at the play area and the housemates have to stand in the number 1 to 7. Initally Baba stood at no.1 , Rahul at no. 2, Varun at no. 3, Ali at no. 4, SivaJyothi at no. 5, Vithika at no. 6 and Sreemukhi at no. 7. Then there is a discussion between Varun and Vithika and they decided to swap spots. Now Varun goes to no. 6 and Vithika to no. 5. This might be a strategy to protect Vithika from getting nominated for elimination as Varun knows even if he gets nominated he has fans to vote and save him.
Update – Bigg Boss 3 Telugu October 16 Voting results – Rahul leads the voting, who is in danger




There is an argument between Rahul and Sreemukhi as who deserves a better spot. Sreemukhi says she does better at task than Rahul while Rahul argues what task do you perform better than me, Sreemukhi appears shocked hearing that. SivaJyothi joins the argument saying if you're better why don't you move to 2nd position while Vithika laughs at this commotion. Then there is an argument between Varun and SivaJyothi regarding his swap. We will have to wait and see who the final 7 members are and who gets nominated tonight.
Mi uddesamlo 'Toppers of the house' evaru?? #BiggBossTelugu3 Today at 9:30 PM on @StarMaa pic.twitter.com/Rt6ArHWn9F

— STAR MAA (@StarMaa) October 14, 2019