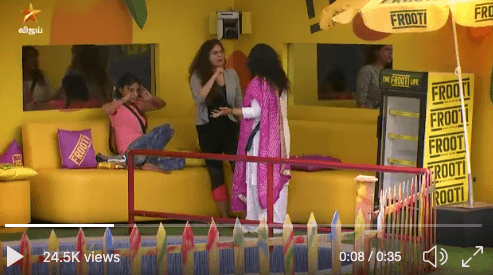 Bigg Boss Season 3 Tamil September 5, 2019 has a huge twist with Vanitha starting a fight with Sherin. This being Day 74 of Bigg Boss 3 Tamil starts Vanitha calling the relationship between Sherin and Tharshan as an affair. Initally it starts with Vanitha talking to Sakshi while Sherin sitting at the back, We see Vanitha saying that she cannot tolerate an affair in front of her eyes and such a bad thing happening to a girl waiting outside. She was targeting Sherin as she is the one in love with Tharshan, while it's reported that Tharshan is having a girlfriend outside the Bigg Boss house.




Vanitha Vs Sherin Who is correct?
When Vanitha says she cannot tolerate the affair between Sherin and Tharshan, Sherin gets angry and speaks out. She says "How dare you call the relationship between me and him as an affair, You can just talk without knowing", Then Vanitha says she went out and knows what is happening outside. Sherin fights back saying "You have no rights to talk about my relationship". Then Vanitha argues while we could see Sakshi closing her ears and eyes walking away.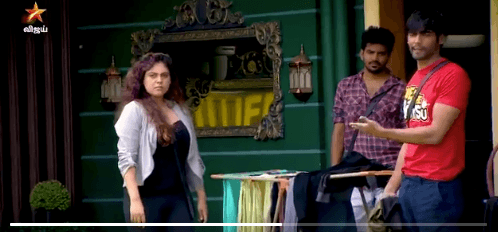 Shering shouts again in anger if Vanitha knows the difference between love and affair, questions her if she has any common sense. Then Vanitha says that guys Tharshan is walking away decently from Sherin while she keeps going to him. At this point Tharshan intervenes and says Sherin didn't do anything. Again Vanitha argues and continues to abuse Sherin. Sherin at this point questions Tharshan what I did to you and the promo ends there.




Do you think Vanitha is correct questioning Sherin this way. Will this improve the chances of Sherin getting more votes due to sympathy? If you have not voted you can get information on how to Vote for Bigg Boss Tamil Online here.