Bigg Boss Season 3 Tamil September 4, 2019 Day 73 promo 2 is released by Vijay Tv and it has already received more than 75,000 views in 20 minutes of release time. This video shows that Sakshi, Mohan Vaidya and Abhirami are made as judges to hear the problems between two teams of housemates.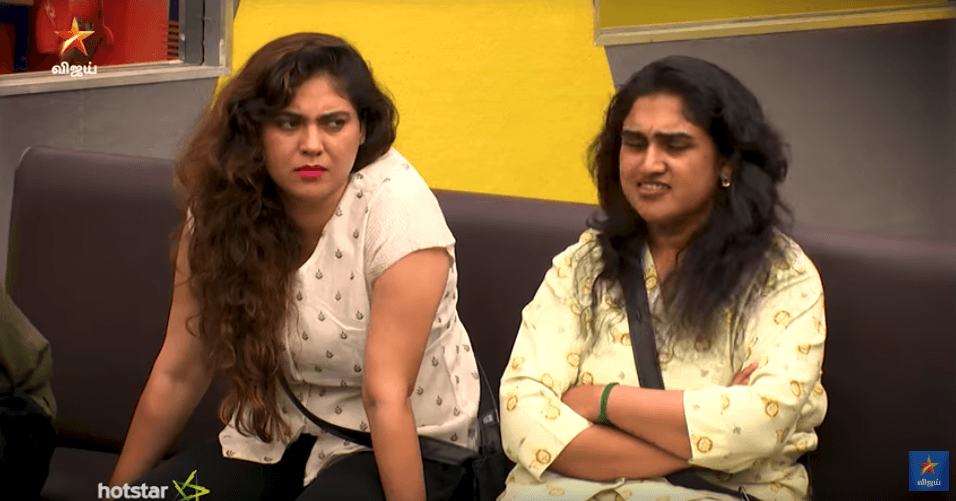 Losliya Vs Sherin who is correct?

Losliya team consists of Kavin, Losliya, Mugen and Sandy. Sherin team consists of Vanitha, Sherin, Cheran and Tharshan. We can see that Losliya initially says that she said sorry and some of the housemates still don't accept her apology and still think she will not change. We're not sure what exactly is the initial argument though, but Losliya is apologising for something but the other group is not accepting it. Vanitha is asking whom she is talking about while Sherin interrupts and says she is fed up with Losliya's arrogance and attitude.


Again Losliya says sorry about her behaviour while Vanitha shouts back says there is no respect in this house from her and the other members of her team. We should know that Vanitha is already having a feud with Kavin yesterday. Losliya is seen talking to Kavin later that she spoke as the other group accused her for that Kavin says they have different justice while we are not given that. Losliya looks shocked.





Make sure to check our Bigg Boss Tamil Vote online post and vote to save your favorite contestant.