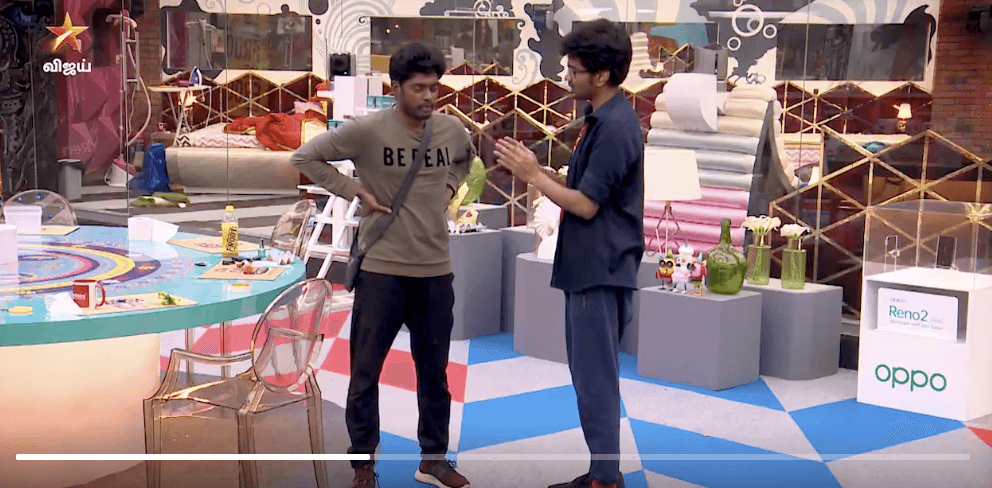 Bigg Boss Tamil day 95 September 26 first promo video is out which shows, this promo is the continuation of what happened the end of the yesterday's episode. In this, BB make chance for contestants by giving 5 Lakhs rupees in advance. Kavin is ready to take the money. In today's promo which confirms that Kavin is taking money and leave the house immediately. But his friends Sandy and Losliya are denied to take the Offer. Sandy is crying and talking to Kavin that please don't go and Stay. Sandy is asking Kavin that why you are leaving now. Promo 1 shows He feels he is not worthy to be there after all what he did. BB asked who is willing to leave with this money, so kavin is ready to leave. May be it's actually kavin's sacrifice drama making him to do it. Kavin feels guilty now, so he knows whatever he did is wrong in the game. He did everything on purpose. May be this was a good decision. Kavin knows there are paid people working for him & he knows he will win, guess he feels he is guilty of it and coming out so the deserving one wins.




He was manipulated so much that now he himself believes that everything was his mistake. Nobody has gone through mental pressure like him but he is still calm. He doesn't have confident on himself and always rely on somebody or using others will show himself. He need some peace he feels guilty can't able to face bb stage and people.
If he is take the money that is good decision. Wish him all the best, Kavin were not wrong all the time. Just then he created situations which he could avoided and stay worthy in the competition. His actions were irresponsible, annoying, irritating but he is not bad guy.
#Day95 #Promo1 #பிக்பாஸ் இல்லத்தில் இன்று.. #BiggBossTamil – தினமும் இரவு 9:30 மணிக்கு உங்கள் விஜயில்.. #BiggBossTamil3 #VijayTelevision pic.twitter.com/2JiX8ClEiT

— Vijay Television (@vijaytelevision) September 26, 2019