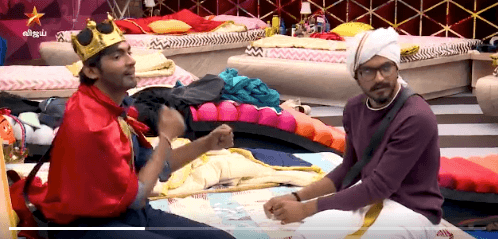 Bigg Boss Tamil day 94 September 25 first promo video is out which shows, Kavin singing a song "Oru vartha pesa oru varsham kathirunthen" in a sarcastic manner. Sherin blushed and asked Tarshan that, see what you've done, why did you read the letter, if you really want to read the letter I will give it to you directly. Then in promo Tharshan searching Dust Bin where sherin dropped the ripped pieces of letter yesterday. Tharshan replied to Sherin that I am the King and I will keep my city always clean.




When Tharshan checked the garbage, he found this letter and was shown reading it. Meantime Tharshan and Mugen ere rearranging the shredded paper. Again Sherin told to Tharshan that, fine I was going to give it to you but then I change my mind. Then Tharshan replied to Sherin that why did you change your mind. She said she can't take it seriously right now with laughing. Everyone is laughing. Sandy is speaking indirectly to all that, he told him what a mental courage Tharshan has. And Sandy mention the word 'him' more than once. That time Mugen's face is in confused state.
Today's promo shows everyone in a jolly mood. The relationship between Tharshan and Sherin is discussed there sarcastically.
#Day94 #Promo1 #பிக்பாஸ் இல்லத்தில் இன்று.. #BiggBossTamil – தினமும் இரவு 9:30 மணிக்கு உங்கள் விஜயில்.. #BiggBossTamil3 #VijayTelevision pic.twitter.com/fRHixfuVSO

— Vijay Television (@vijaytelevision) September 25, 2019