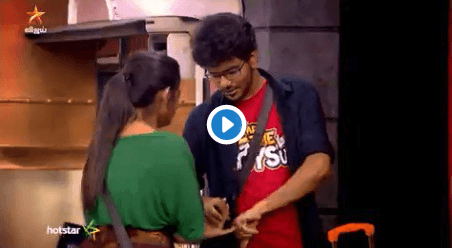 Bigg Boss Tamil September 26 third promo is released which shows Kavin is going out today. He is standing in front of the red gate with his suitcase. Everyone is standing with him for opening the gate. Losliya is crying a lot. Kavin is pointing his small finger towards Losliya which is one of their action for showing their intimacy. But Losliya denied to do that. Kavin is coming back and holding her finger. Finally kavin left the show by saying it's a game play well. Losliya follows Kavin and her hand is jammed when the door closes. Background song is really apt for the situation.




Kavin-Losliya is considered to be the lovers of the Big Boss season3. The separation between them is the promo. The farewell for Kavin is really heart touching where Sandy and Losliya are weeping. Fans thought the two were up to the end. In today's episode we can see the heartbreak of a Lover and a true friend. Sandy is the best friend for Kavin inside the house.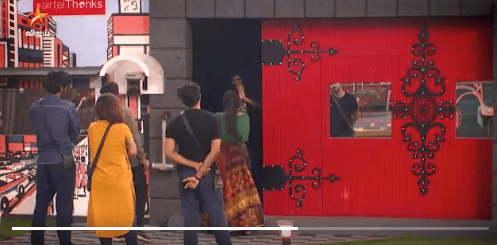 He has indirectly helped in promoting Mugen, Losliya and Tarshan. But didn't see them react in the promo. Sandy and Losliya were trying to stop him. Not sure if they are going to feel bad for Kavin's leaving or they going to blame him for leaving. Kavin was came out of the house, not because of others but himself only. All mistake can be forgiven with this one decision. He is just going out of Bigg boss house, not out of the country. He got to do his duty outside. After 10 days all can meet up outside. Kavin is very clever and smart, his decision is perfect. Kavin is a gentleman. He came for the money and he got it and he left. Only one thing, he didn't go after the ladies they made their first move for love drama. We cannot blame him for everything. If he is really out total respect to him. Don't know this will be another drama of Bigg Boss. Will wait and Watch.
#Day95 #Promo3 #பிக்பாஸ் இல்லத்தில் இன்று.. #BiggBossTamil – தினமும் இரவு 9:30 மணிக்கு உங்கள் விஜயில்.. #BiggBossTamil3 #VijayTelevision pic.twitter.com/vOcAhMtqRR

— Vijay Television (@vijaytelevision) September 26, 2019