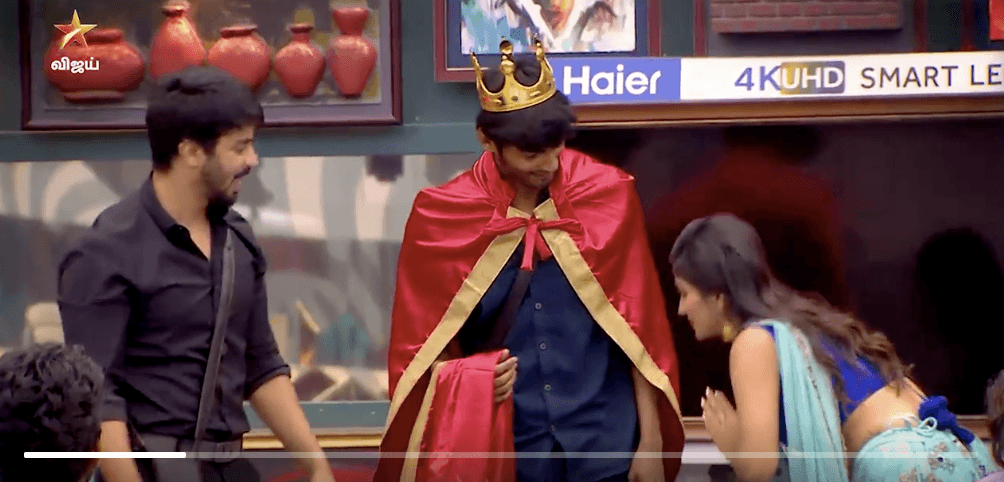 Bigg Boss Tamil day 93 September 24 Second promo video is out which shows new task is arrived. Kavin reading the task. In this task Tharshan become the king and Sandy is going to be the announcer of the King's arrival. Losliya and Mugen must do all the services that king says. Kavin and Sherin, should work as a chariot for the king while he travels.


Last Season contestants Mahat and Yashika are there at Bigg Boss house. For the entertainment of them, BB gives theem tasks which are very interesting and entertaining. All the Contestants in today's episode seemed happy. Starting of the promo Mahat asking BB that lets play game with them. Following Kavin explains the task and the task and contestants reacts according to the instructions. Where Mahat and Yashika do the coronation to Tarshan. Losliya feeding tea to Tarshan and Mugen is wiping Tharshan's mouth as a service, that's the task allocated to them. Sandy is announcing the arrival of the King. Kavin and Sherin Lifting Tarshan and throwing into the sofa playfully. That time Tarshan's crown was fell down and Mugen placing the crown on king's head again. Kavin said to Tarshan that, your majesty landing will be some distorted. Everyone is in a Jolly Mood.




BB is all about how you withstand all the manipulations, mind games, targeting, pressure, tricking, tackling the situations etc. Today's episode would be very entertaining it seems. Yashika in Bigg Boss house, Kavin back to happy mood.
#Day93 #Promo2 #பிக்பாஸ் இல்லத்தில் இன்று.. #BiggBossTamil – தினமும் இரவு 9:30 மணிக்கு உங்கள் விஜயில்.. #BiggBossTamil3 #VijayTelevision pic.twitter.com/Hfc7N2kYTF

— Vijay Television (@vijaytelevision) September 24, 2019