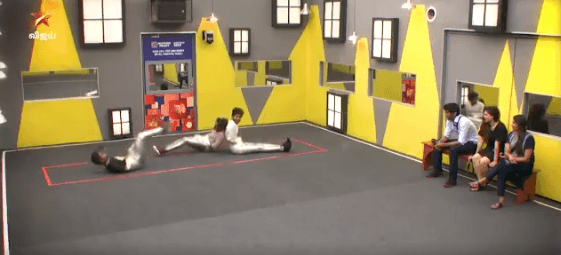 Bigg Boss Tamil day 92 September 23 third promo video is out which shows Captaincy tasks are going on. Mugen is reading the task for all of them. In this task, Sandy, Mugen and Kavin are participating. The task is, contestants wrapping their body with wrapping paper and roll them by themselves on floor. The Person who is roll over and reach the red box on one side of the room with short time period and also to stand up by himself, will be the captain for this week. Tharshan helping Sandy, Losliya helping Mugen and Sherin helping Kavin to wrap them with wrapping paper. The participants are like inside a cocoon.




Tharshan lifting the participants one by one for rolling on the floor. It's very cute to watch. Sandy is on an acrobatic movement like jumping out from the Cocoon. That attempt was amazing. In this promo everyone reaches the box but the excitement is to watch who is going to come out of the cocoon and stand up first. Mugen also trying well. He is the best competitor for Sandy compare with Kavin. In this promo it shows like Sandy is removing the wrapper first and going to stand up, mostly he is the very nearest to win the captaincy task. That flip from Sandy in the end shows his dancing skills, Sandy is a well talented Dance master. So this task will be very easier for Sandy master. Of course Sandy is deserves the captainship. Also the background music is very funny and really related to the situation. Sandy is rollover on Mugen's head. Everyone is enjoying the task very cheerfully.
Today's episode is going to very interesting and we can watch many funny elements from the episode.
#Day92 #Promo3 #பிக்பாஸ் இல்லத்தில் இன்று.. #BiggBossTamil – தினமும் இரவு 9:30 மணிக்கு உங்கள் விஜயில்.. #BiggBossTamil3 #VijayTelevision pic.twitter.com/nwtiuLFhuI

— Vijay Television (@vijaytelevision) September 23, 2019