Bigg Boss Tamil 3 completed 50 days this week and the show is setup for some sensational twists in the coming days. The entry of the first wild card entry, Kasthuri Shankar and the reentry of the controversial contestant Vanitha Vijayakumar, changes the dynamics of the house.
Cheran, Kasthuri, Tharshan and Sandy are nominated for eliminations this week.
Fathima Babu, Vanitha, Meera, Mohan Vaidya, Reshma, Sakshi, Madhumita and Abirami are eliminated so far. This week's eliminations will be one of the most interesting in Bigg Boss Tamil 3 as of now.
Who Was Safe From Nominations This Week?
Sherin and Vanitha were safe from elimination nominations this week. Sherin is the current captain of the house and Vanitha is the latest wild card entry in the house. Hence, the duo enjoys immunity this week.
Whom Did The Individual Contestants Nominate?
The house was prepared for a closed door nomination. The contestants were expected to vote secretively and not discuss their nominations with anyone. They are also barred from nominating themselves. Here's how the elimination nominations shaped up.




Vanitha nominated Sandy and Tharshan
Kasthuri nominated Kavin and Sandy
Kavin nominated Kasthuri and Cheran
Mugen nominated Cheran and Kasthuri
Losliya nominated Kasthuri and Cheran
Cheran nominated Sandy and Tharshan
Tharshan nominated Kasthuri and Cheran
Sherin nominated Mugen and Kasthuri
Sandy nominated Cheran and Kasthuri
Which Contestants Will Be Eliminated This Week in Bigg Boss 3 Tamil?
Cheran is the senior most member of the house. He is highly respected for his opinions and decisions. However, his inclination to Madhumita and not standing up for the men in the house when the "men are using women" debate was on, earned him a lot of disrespect. Almost every contestant who nominated him were disappointed with his way of handling such critical controversies in the house. Losliya's nomination for Cheran comes as a huge surprise considering his affection for her. Also, Cheran is so confident that he wont be nominated by her.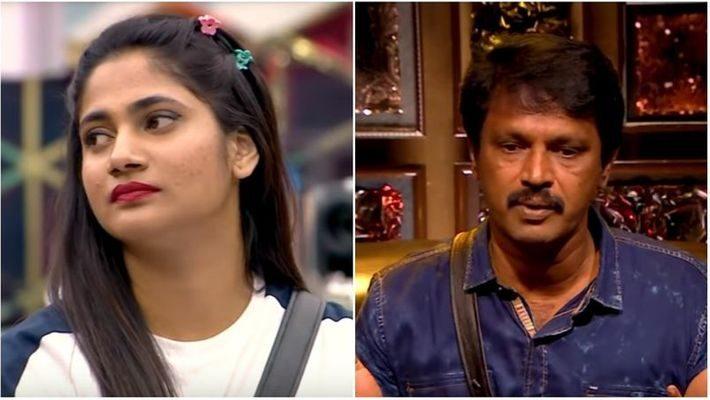 Kasthuri is failing in her mission to create some impact in the house. Her unnecessary involvement in every issue in the house and trying to play the matured person card is not working out. The contestants in the house are tired with her approach of handling things and poking her nose in things which she was not a part of. Her wildcard entry came in pretty late and the existing contestants are bluntly sidelining her.
Sandy is a cheerful contestant and is loved for his quick witted comedy. However, his week as captain was an absolute disaster. His decisions and authoritativeness were not appreciable. His extreme inclination with the boys gang and righteously rejecting conversations with fellow members earned him the nomination this week.
Tharshan is one of the top performers in the house and a likely favorite to win the title of Bigg Boss Season 3. However, fellow contestants seem to doubt his credibility and genuineness which earned him the nomination this week.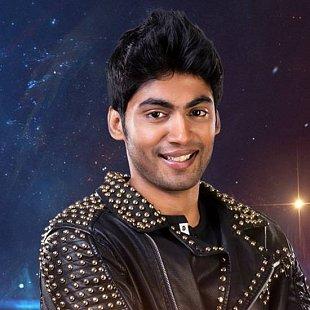 Total Votes for Each Contestant Facing Elimination
Cheran – 5 votes
Kasthuri – 6 votes
Tharshan – 2 votes
Sandy – 3 votes
How to Vote For Your Favorite Bigg Boss Tamil 3 Contestant Online This Week?
1 – Download the Hotstar app to take part in the voting procedure for audience voting in Bigg Boss Tamil 3.
2 – Login to the page using your e-mail account, phone number or any social media account. (If not, you have to sign up and create your Hotstar account)
3 – Click on the Bigg Boss Tamil banner or if you are unable to find it, type Bigg Boss Tamil in the search bar.
4 – Click on the 'Vote' button
5 – Find the names of the contestants who are facing elimination test this week.
6 – You will get 50 votes per day till Saturday midnight. You can either cast those votes to one person or divide it among your favorite nominated contestants.
Bigg Boss Tamil Season 3 Voting through Missed Call
To save your favorite Tamil Bigg Boss Contestant this week, give a missed call to the below mentioned mobile numbers:
Who will be eliminated in Bigg Boss Tamil 3 this week? Let us know in the comments below.