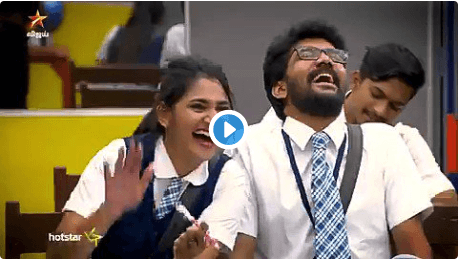 This is the first promo video of Bigg Boss 3 Tamil Day 59. The promo is hilarious with all the contestants trying to recite Tamil Rhymes and riddles. Losliya outshines everyone with her Tamil Skills and she is applauded by everyone including Kavin and Cheran. We're yet to know how her relationship with Cheran unfolds. Vanitha continues to mingle with everyone including Losliya, Sandy and Sherin in the Kindergarten School tasks, which has been taking place at Bigg Boss home since yesterday.




Another Irritating Performance from Vanitha
Vanitha protested yesterday that Kasthuri should apologise to her for name calling but failed miserably in that task, even today Vanitha was silent on the task which involved reciting Tamil rhymes, while everyone tried to sing including Sherin. Vanitha said that she got tensed seeing Teacher Kasthuri while Cheran enquired the reason why she couldn't sing.
Sherin surprised everyone with her Tamil speaking skills
Vanitha has further frustrated audience with the fact that the school task is a bit overkill, and the Bigg Boss audience has already tweeted that it's lame. Today's perfomance proved that Losliya is the clear winner of the task followed by Sherin and Sandy. Sherin, who does not understand Tamil in particular, surprised everyone by saying, "Sethukkulakkuttu Dattittathi Chikkikichu".