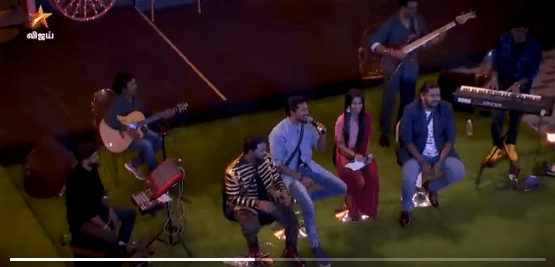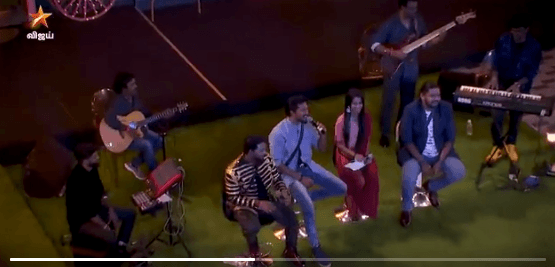 This week in Bigg Boss will be filled with each of the four contestants expressing their talents and appealing to vote to Win Bigg Boss 3 Tamil title and Fifty lakh rupees. Mugen is a talented singer and trying to show his singing skills with Airtel Super singers. A concert type setup is created where Mugen is singing and all the other contestants are impressed with his talent. In this promo campfire is going on. Where Vijay TV's another popular show Super Singer team is be the guest of today's episode. Bigg Boss become super singer now. Super Singer Mani and band inside BB house with Mugen and Priyanka. Finally one creative thought in this season. Mugen is singing his favourite song that he already sung inside the house with the team. Another different thing to watch in house. Mugen is being promoted as a singer here.




He is not just chatting, eating and sleeping throughout BB3. Mugen gave his best. He is the one using this opportunity to the fullest. It's Just the beginning for Mugen, he going to shine bright in Kollywood town. Finally a talented guy is getting the focus. He is the best find for this season and in entire Bigg Boss Tamil. Let's make him the best product to the Kollywood industry. Mugen is such a true inspirer!! The only worthy and deserving contestant to be the title winner.
Losliya also singing along with Mugen. Losliya also deserving the title. Only her BB journey was the toughest. She went through a range of emotions, got humiliated & went through mental torture too. The common girl who face hurdles more than others in the house and proving strong for 100 days. Go girl and win the Title. Playing for her Family and Kavin.
The moment we all waiting for is just few more days away. Will watch today episode without missing.
#Day100 #Promo1 #பிக்பாஸ் இல்லத்தில் இன்று.. #BiggBossTamil – தினமும் இரவு 9:30 மணிக்கு உங்கள் விஜயில்.. #BiggBossTamil3 #VijayTelevision pic.twitter.com/JaAgpPesO4

— Vijay Television (@vijaytelevision) October 1, 2019
Bigg Boss 3 Tamil Title Winner Vote Online
Voting for title winner of Bigg Boss house is officially opened on Hotstar app, you can choose your favorite contestant and vote upto 50 points each time. We have our own voting to give a transparent view on who would be people choosing as Title winner, vote in there below here.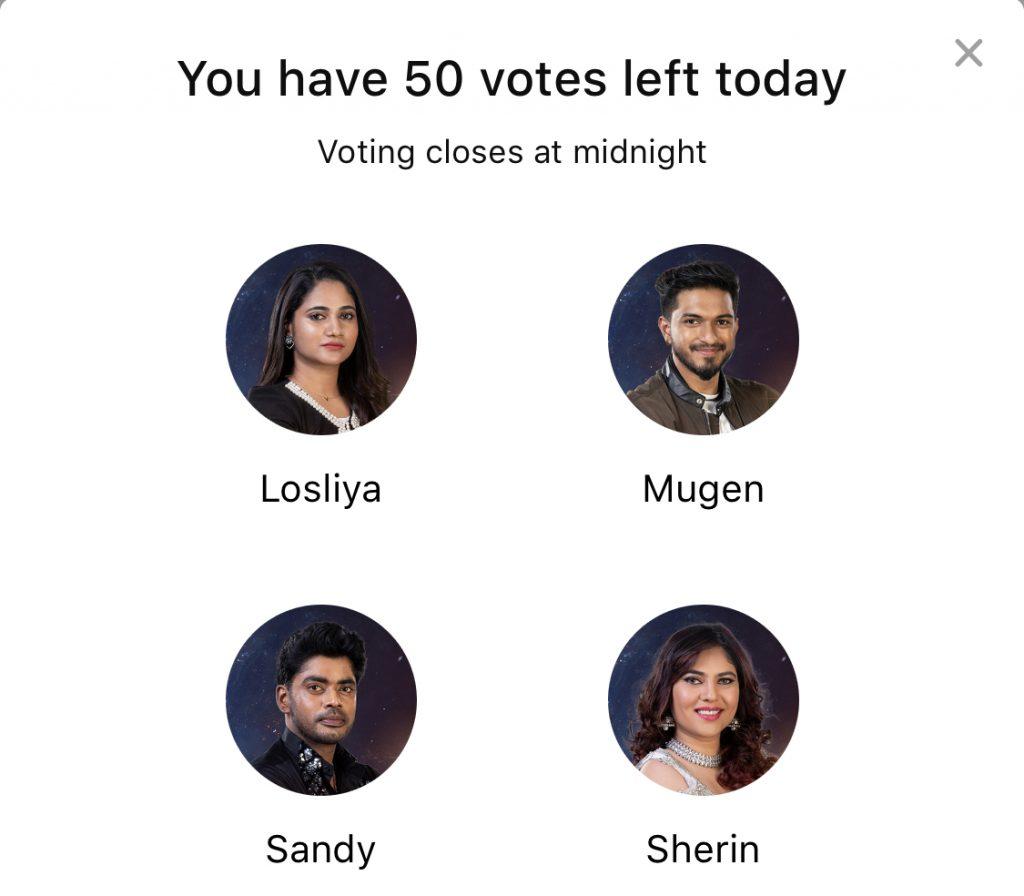 Who will win the Bigg Boss 3 Tamil title?