Bigg Boss 14 will come to an end in the next month. Within few weeks we will get a winner and the audience is eager to see who will life the coveted trophy. The finale will be on February 21st 2021 and there will be five finalists. In the coming weeks, we will see around three more eliminations coming our way. This weekend Salman Khan will be back to host Weekend Ka Vaar and he will brutally cut across the bubble the contestants have been living in. He especially will show his disgust towards Nikki Tamboli and try to put Abhinav Shukla on the right path.
The Rakhi Sawant-Abhinav Shukla love angle has proved to be fatal. While initially Abhinav and Rubina supported the entertainment quotient of late they have shown their disagreement and have clearly said they would like Rakhi to stop. This week Salman Khan shares his take on this predicament. Salman Khan says that the biggest entertainer of Bigg Boss 14 is Rakhi Sawant. Without her this show would be a drag and the audience would have no intention of watching it just like how they weren't watching prior to her entry.
He goes on to say that the only person who is benefitting from this is Abhinav. Abhinav says that if this is entertainment then he does not want to get this advantage.Salman tells him to stop talking and give him a chance to complete what he is saying. Salman tells him not to overreact in such a manner. Abhinav is seen dabbing his eyes. He tells the housemates if this is the definition of entertainment then he wants to go home.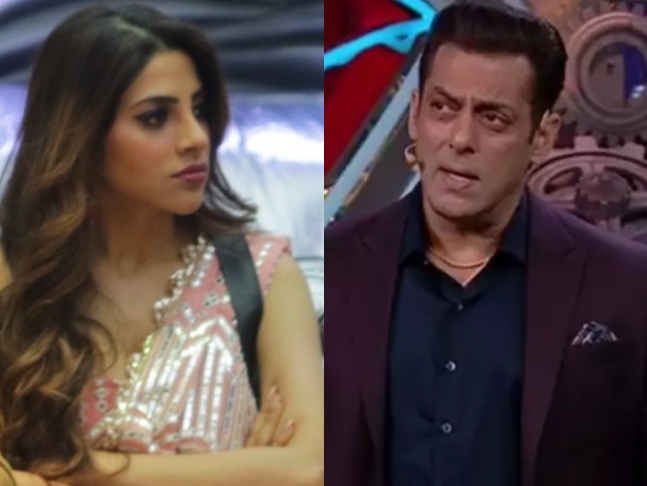 Salman Khan finally addresses Nikki Tamboli's behaviour. While the audience has shown their utter disgust towards the way she talks to people, Host Salman Khan does not share a different opinion. He says that there is no person in the house who Nikki has not spoken rudely with. She shows disrespect to each person and every time stoops to a new low. Salman says she spoke to the media also in a similar manner which shows her true self. Nikki says that in anger she does such things. Salman then points out that he has corrected her once, twice and multiple times but now she can go to hell with her arrogant behaviour.