Bigg Boss 14 is truly an entertainer for the audience. It is like the phoenix that resurrected from the ashes. The show is currently on a high and the makers are leaving no stone unturned to make it all the more fascinating. The tasks that they are coming up with are truly fascinating and it will make everyone mad with joy and laughter. In tonight's episode the contestants will be given the task of being stuck in a time loop. This means that they will repeatedly have to do the same action which was once committed. It will truly be hilarious and a joy to watch.
Today's task is fun and spunky. It begins with all the lights fluctuating in the house. All wonder what is happening when Bigg Boss announces that all the housemates are stuck in a time loop. Any action which they do will have to be repeated time and again. It begins with the morning song, the song repeatedly plays so the housemates have to repeat the same dance moves that they had busted earlier on. While Rubina and Nikki dance in the garden area, Rahul is on the sofa dancing. This repeats multiple times.
Rakhi and Arshi had a little squabble, Rakhi tells Arshi not to touch her and pushes her. They are then found rolling on the ground. This is also on time loop and repeatedly occurs. Next, Rubina falls into the pool, Vikas says Rubina has fallen and Aly immediately jumps in to help her. This will also be on loop. Rubina will keep falling, Aly will keep jumping and Vikas will keep asking her if she is fine and she'll say she isn't.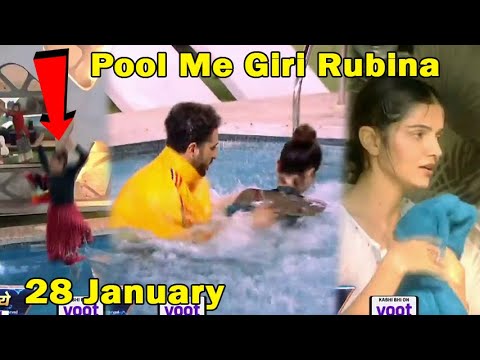 It is well known that Rubina and Abhinav are tired of Rakhi Sawant's antics. Her initial liking towards Abhinav was well supported because it was harmless. She had a soft spot towards him and acted on this. Neither Rubina nor Abhinav stopped her because she was within her limits and was playing for them. Last night, Rakhi lost all control and even began tearing Abhinav's undergarments.
Tonight during the task, Rubina and Abhinav decide that they have had enough of her behaviour and they will not support her during the task. If she does not get the necessary reaction from them, she will eventually stop. Rakhi follows Abhinav everywhere and even offers him a massage. He is very uncomfortable but does has to be a part of the task. Rubina tells Abhinav that it is in his hands to spoil Rakhi's game. If they don't let Rakhi do what she usually sets out to do then her activity will be null and void. Rakhi tells Abhinav that he should not have targeted her, he started this but she will end it, she will make his life hell.