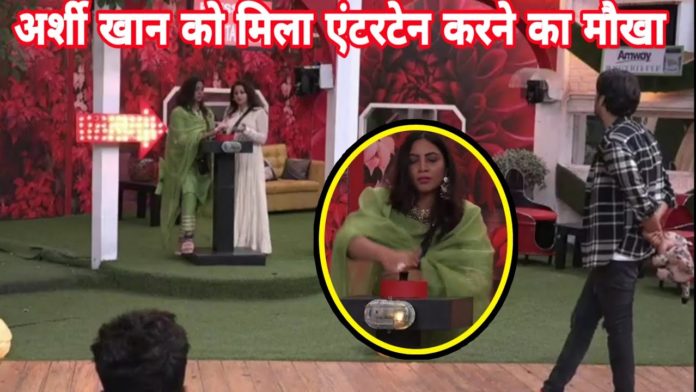 Bigg Boss 14 has surely amped up its game. The TRP's are currently skyrocketing which makes it a hit show. This season had been dabbling with alot of pressure. The place that it was coming from was only increasing the need for the show to perform well. Off late the contestants have finally understood the game and have been making a genuine effort to break the shackles of the image they had created and play a strong game.
Bigg Boss Entertainment Live Task has begun wherein the contestants will come in pairs. Whoever presses the buzzer first, they will get a chance to entertain the audience on Voot Live. In the first round, Aly and Vikas were called to the buzzer. Vikas pressed the buzzer and won the round.He was given a chance to entertain the audience and most of the housemates supported him.
In the second round, Arshi and Sonali are asked to step forward to stand before the buzzer. Their round does not go as planned. Initially, Arshi keeps her hand surrounding the buzzer which would make it easier for her to hit it. Sonali raises her voice against this. She then catches Arshi's hand and presses the buzzer. Arshi wrecks hell over this. She yells and pushes the buzzer off the stand. She raises a dispute over the same. Finally, it is decided that Arshi wins this round.
This does not go down well later on as it begins a huge fight. Arshi says that she will only make roti for herself and says that there is rice, Sonali could eat that. But actually she had provided her with many parathas. Sonali then says that she took one bite of food and it has become a huge deal. She throws away the rest of the paratha. Arshi then tells Rubina, Abhinav and Nikki that Sonali threw away the leftover paratha.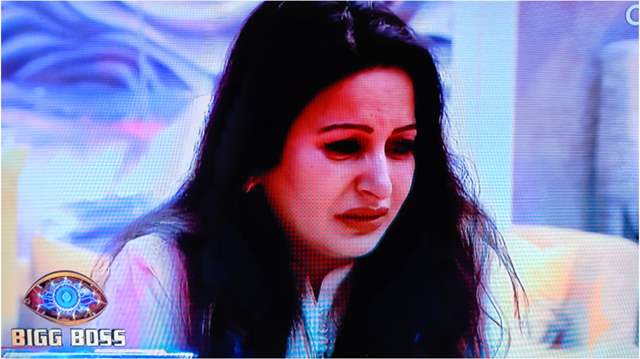 Rubina says that Sonali has a VIP nature and that they are adjusting to that but that does not mean she disrespects food.She tells her to go to her own house and behave like this. Sonali says that she never imagined she will have to see such a day in her life. Nikki decides to put a word in as well and says that they aren't getting proper food and she is throwing away what they have. Sonali tries to make Nikki leave so she can get her own space.Sonali has a meltdown and she begs Bigg Boss to send her home.
The next round is between Rakhi and Abhinav. Rakhi wins the round and does her very best. She even brings out Julie who is a complete entertainer and has the whole house in splits.