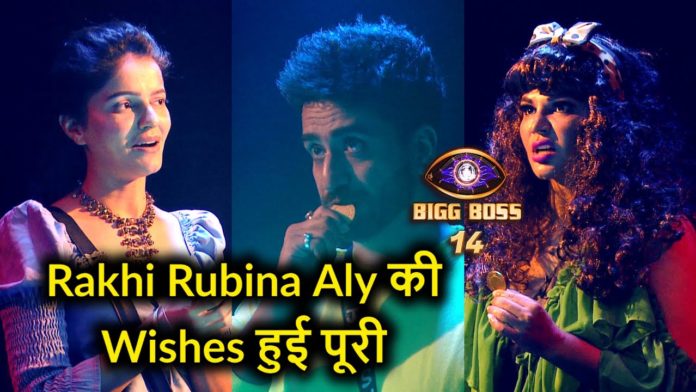 The next few days are going to be nerve wrecking for the contestants of Bigg Boss 14 as they are on the final leg of the season. This season has seen so many ups and downs both interns of content wise as well as the relationships that the contestants had both inside and outside. It felt as thought the audience was a part of their lives and lived the last 140 days with them. This season has shown considerable amount of growth in the contestants which is visible to all. There are currently five finalists but there will be a mid-week elimination soon leaving us with the top four contestants of Bigg Boss 14.
Tonight, there will be a cave task wherein the contestants will be asked to sit in a wonderful setting and each has to give up something up close and personal to them for the others wish to come true. Aly is heard asking Bigg Boss for a video call to his mother. He has not seen his mother for a long time. He even says that his sister just delivered a baby girl and he would love to see his niece. The last time his sister delivered he was right there but this time he missed it.
Nikki has to convince Rahul to destroy Disha's dupatta which he has with him so that Nikki's wish can come true. Rahul has been holding onto the dupatta and found alot of strength from the piece of cloth which gave him solace in tough times. He is hesitant about destroying it. Nikki is heard saying that she will go into the room and destroy it without Rahul knowing so that her wish comes true. Nikki is given the opportunity to take six lakhs and leave the show. She is excited about this opportunity and Rakhi says that even six lakhs is a big amount.
Rakhi is asked to destroy the letter her husband Riteish had written and sent to her for Christmas. She says that whenever she is down, she reads the letter and feels better. She has married him with all her heart and soul even though she has not met him for the last two years. She says that there are alot of emotions attached to this letter.
Three contestants- Rubina Dilaik, Rakhi Sawant and Aly Goni win the cave task. They each have to wish for something that they dearly want. Rubina wishes to do a pahadi dance with all the housemates, Rakhi wants to have a pizza party and Aly would want to video call his mother and see his sisters new born child. Everyone's wish gets fulfilled.