Bigg Boss 14 is moving towards its finale at the end of this month. The next few weeks are crucial for the contestants as they have to prove to the audience that they are deserving to win this season. As per latest reports, next week will be family week which means we will get to see a number of eliminated contestants in the house supporting their favourite contestant.
Bigg Boss 14 Eviction Week 18 Voting Trends and Analysis for 3rd February 2021
Tonights episode of Bigg Boss involved the nomination process. The contestants were given the chance to save one contestant. Initially Bigg Boss nominated all the contestants. The task is such that the contestant will have to list themselves in a manner as to who will enter the theatre room first and last to write the name of a contestant on a book. The contestant whose name lasts till the end will be safe from eliminations.Nikki claims the last spot which means that it will all be upto her as to who will be safe this week or all will be nominated. Most of the contestants intend on keeping Rahul safe from eliminations but the buck still lies with Nikki. Nikki is heard saying that Rahul has never held his part of the friendship and has even nominated her twice.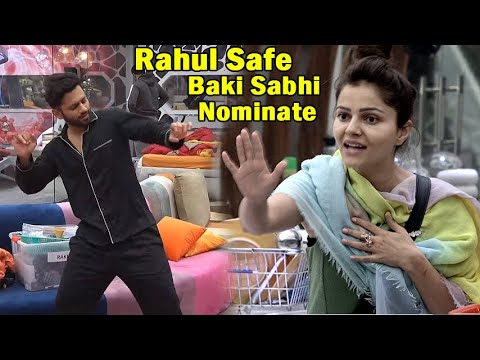 Bigg Boss 14 Voting Results Week 18 Eviction – 3rd February 2021
Rubina Dilaik
Aly Goni
Abhinav Shukla
Rakhi Sawant
Devoleena Bhattacharjee
Arshi Khan
Nikki Tamboli
Bigg Boss 14 Elimination Nominations List Week 18
Devoleena Bhattacharjee
Aly Goni
Rubina Dilaik
Abhinav Shukla
Rakhi Sawant
Arshi Khan
Nikki Tamboli
Which Contestants Are Safe This Week in Bigg Boss 14 Elimination This Week?
Irrespective if there is an elimination this week or not, Rubina Dilaik, Aly Goni and Abhinav Shukla will be safe this week. All three have been playing very well and their presence is important for the show. The makers are not ready to make such a huge change and hence will not even try to eliminate them this week. Aly has been a surprise for the audience owing to the fact that he only entered the house for Jasmin. He has proved himself to be winner material with or without Jasmin.
Which Contestants Are in Danger this Week in Bigg Boss 14 Elimination This Week?
This week there might be no elimination due to the upcoming family week. If the makers intend on listening to the audience votes then Arshi Khan and Nikki Tamboli are in danger this week. The chances of elimination this week are less since the makers have already contacted connections to come in next week to support both Arshi and Nikki. It is said that Arshi's brother will com in and for Nikki, Jaan Kumar Sanu. It is still up for grabs if this will happen or an elimination.
How to vote on Voot Online for Bigg Boss 14 Voot App?
Download the Voot App from the Play Store
Then register your account using email or Facebook Id.
Once you are done, search for Bigg Boss 14 vote.
Search for your favorite contestant and vote