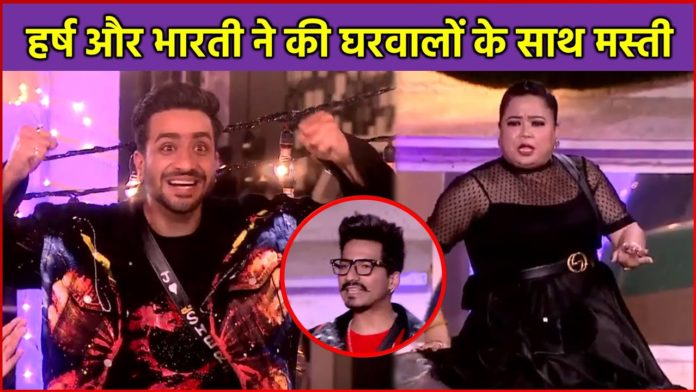 Bigg Boss 14 could not get any better than it already is. A myth. Tonight's episode was a complete laughter packed ride which kept the audience and the contestants in splits. In a time when the contestants are in constant worry about what is to happen next, this was the moment Bigg Boss chose to provide them with a dinner to celebrate their victory. This dinner would be incomplete without laughter and that's when Bigg Boss sends in Bharti Singh and Harsh Limbachiyaa. Both bring the house down with their realistic portrayals of contestants and in-house situations.
Bigg Boss 14 Eviction Week 20 Voting Trends and Analysis for 10th February 2021
Tonight's episode of Bigg Boss was fun filled and packed with laughter. Comedians Haarsh Limbachiyaa and Bharti Singh enter the house and create havoc with their wittiness. Both managed to keep the contestants in splits with their enactments and tit-bits of everything that has happened over the last few months. They say that when Jasmin Bhasin was eliminated, Aly was down on his knees crying. Bharti says that Aly's nephews and niece began laughing looking at their uncle and said look how he is crying on television. Bharti tells Rahul that when Abhinav was eliminated, he got down of his car and began screaming 'Jai Man Shakti'. Finally after so many months he heard his own voice because in the house, his wife never let him talk.
Bigg Boss 14 Voting Results Week 20 Eviction – 20th February 2021
Rubina Dilaik
Rahul Vaidya
Aly Goni
Rakhi Sawant
Nikki Tamboli
Bigg Boss 14 Elimination Nominations List Week 20
Nikki Tamboli
Aly Goni
Rubina Dilaik
Rakhi Sawant
Rahul Vaidya
Which Contestants Are Safe This Week in Bigg Boss 14 Elimination This Week?
The top 3 contestants will be Rahul Vaidya, Rubina Dilaik and Aly Goni. Their growth within the show is clearly visible not just as players but also individuals. All three have earned themselves a good fan following owing to their personalty and game strategy. Rubina has finally shown herself true self post the elimination of her husband. She is now seen as a bubbly carefree person who is simple at heart and earned what she deserves. Rahul may have been blurred by his emotions and walked out of the show but his massive fan following truly helped him. He earned this through his contribution to the show. Aly has shown tremendous growth in the show. He entered as a wild card entry but won hearts like no-one before. Aly has shown leadership skills like no other and as proved to be worthy of winning the show.
Which Contestants Are in Danger this Week in Bigg Boss 14 Elimination This Week?
As per current voting trends, Nikki Tamboli and Rakhi Sawant are in danger of elimination before the top 3 have been announced. Bigg Boss has given Nikki a number of opportunities to take a bag of money and walk out but Nikki has not understood the message and has decided to stick to her chances. Nikki may have proved herself in the initial few weeks of the season but post her re-entry, she has lost the plot and this is very visible in her behaviour. She has shown utter disrespect for everyone around her. Rakhi Sawant entered the house as a challenger, one who was called to spice up the show. However with time, Rakhi got so lost in her intent to entertain and just because crude. Rakhi has invaded private relationships and made them look cheap. She will mostly be in the top 4 and be eliminated from there on.
How to vote on Voot Online for Bigg Boss 14 Voot App?
Download the Voot App from the Play Store
Then register your account using email or Facebook Id.
Once you are done, search for Bigg Boss 14 vote.
Search for your favorite contestant and vote