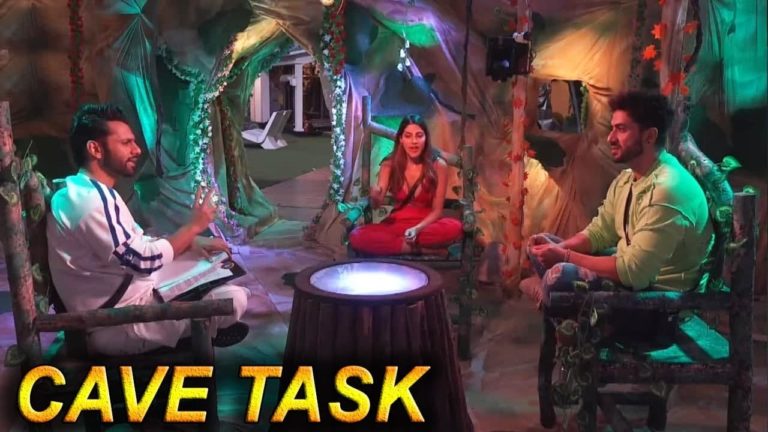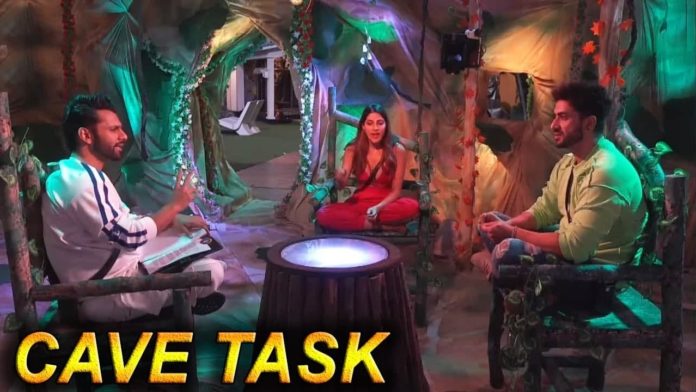 Bigg Boss 14 will soon find its winner at the end of this week. This season has been highly controversial due to the innumerable personal conflicts that the contestants have had within the house as well as outside. The contestants have seen many changes in the last few months mainly because the show was not doing well. However, they managed to move past all these obstacles and reach this stage. The finalists are Rubina Dilaik, Rahul Vaidya, Aly Goni, Rakhi Sawant and Nikki Tamboli. From these five contestants, there is likely to be a mid-week elimination.
Bigg Boss 14 Eviction Week 20 Voting Trends and Analysis for 18th February 2021 
Tonight, there will be a cave task wherein the contestants will be asked to sit in a cave-like setting and each has to give up something up close and personal to them for the others wish to come true. Aly is heard asking Bigg Boss for a video call to his mother. He has not seen his mother for a long time. He even says that his sister just delivered a baby girl and he would love to see his niece. The last time his sister delivered he was right there but this time he missed it.Rubina requests to dance 'pahadi' traditional dance with host Salman Khan which she had wished to do ever since she knew she was entering the show. Rahul says that he would like to go on a date with Disha, just like how Rubina went with Abhinav. Nikki wants to see her dogs who she hasn't seen in months and finally Rakhi requests for a pizza party.
Bigg Boss 14 Voting Results Week 20 Eviction – 18th February 2021
Rubina Dilaik
Rahul Vaidya
Aly Goni
Rakhi Sawant
Nikki Tamboli
Bigg Boss 14 Elimination Nominations List Week 20
Nikki Tamboli
Aly Goni
Rubina Dilaik
Rakhi Sawant
Rahul Vaidya
Which Contestants Are Safe This Week in Bigg Boss 14 Elimination This Week?
Three contestants namely Rubina Dilaik, Rahul Vaidya and Aly Goni are safe from voting trends this week. All three are doing extremely well and are very well deserving of the coveted title. The three of them have had really wonderful journeys and have shown commendable growth in their characters both as players as well as individuals. While Rubina has seen so many ups and downs in the house, she has also shown that if a woman makes up her mind to achieve something she will go all out to do the same. Rahul Vaidya was known as a singer but now he is seen in a different light. Rahul has played the game like a star and has won the hearts of the entire country. The only person who came as a wild card and also a surprise is Aly Goni. Aly has shown what a real game is like and has even been one to lead the troops.
Which Contestants Are in Danger this Week in Bigg Boss 14 Elimination This Week?
It is reported that Nikki Tamboli will be eliminated in a mid-week elimination. Anyway, as per voting trends Nikki is lagging behind in comparison to the other contestants. Nikki might have give her best to the show but it wasn't the way she would have wanted the world to see her. Nikki has not come across as a strong personality but an immature, crude and petty contestant. She has been warned time and again that she is misbehaving and is highly disrespectful but it does not seem to have made a difference to her. Nikki would not have reached this week had it not been for Rubina Dilaik saving her last week.
How to vote on Voot Online for Bigg Boss 14 Voot App?
Download the Voot App from the Play Store
Then register your account using email or Facebook Id.
Once you are done, search for Bigg Boss 14 vote.
Search for your favorite contestant and vote