To live in an enclosed space for 20 weeks isn't an easy task but the contestants of Bigg Boss 14 have shown that it isn't impossible. The contestants entered the house in October 2020 but their lack of enthusiasm in the show led to low TRP's and a terrible downfall of the Bigg Boss name. The makers did everything within their capacity to keep the viewers entertained but only the concept of challengers worked wonders. In the last few days, we will see a mid-week elimination but also revisit the journey these contestants have taken on the show. The beauty of relationships, the brutality of fights and the hilarity of entertainment will be viewed yet again before the show comes to a close.
Bigg Boss 14 Eviction Week 20 Voting Trends and Analysis for 17th February 2021
When Rubina Dilaik and Abhinav Shukla entered the house, the audience saw them as a power couple, and very much so. What the country didn't know was that they were on the verge of divorce. However, both have redefined love and marriage.
Tonight, Abhinav reentered the house to remind his wife how proud he is of her and that he truly loves her. He even says that he would want to marry her again. The smile on Rubina's face says it all. This moment is important to be felt by all and Bigg Boss makes it a point that every contestant feels the love of this season.
While Aly Goni receives a huge teddy bear from Jasmin Bhasin on the occasion of Valentine's Day, Rahul Vaidya is still blushing after his meeting with now fiancé Disha Parmar. Rakhi Sawant is seen with a heart balloon in hand talking to the camera. She tells her husband Riteish that even though they haven't spent a single Valentine's together, she hopes that whichever corner of the world he is in, he feels her love on this day.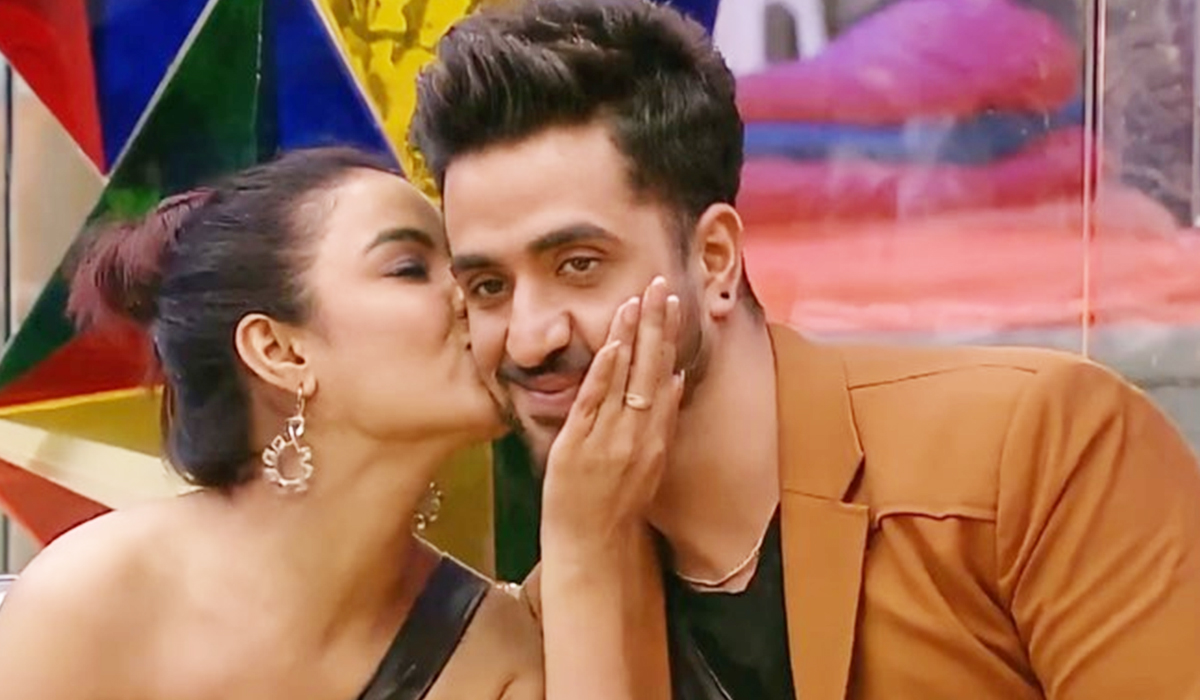 Bigg Boss did not let anyone feel left out. While Rahul Vaidya got to meet Disha Parmar on Sunday, Aly Goni was given a gift as well. Jasmin sent Aly a huge teddy bear which was a symbol of their love. Aly goes into the storage room and hugs the teddy bear with so much emotion. Rakhi Sawant is seen with a balloon in hand and wishes husband Riteish, a very happy Valentine's Day. She says that they have never spent a Valentine's together before so she sends her wishes across to him.
Bigg Boss 14 Voting Results Week 20 Eviction – 17th February 2021
Rubina Dilaik
Rahul Vaidya
Aly Goni
Rakhi Sawant
Nikki Tamboli
Bigg Boss 14 Elimination Nominations List Week 20
Nikki Tamboli
Aly Goni
Rubina Dilaik
Rakhi Sawant
Rahul Vaidya
Which Contestants Are Safe This Week in Bigg Boss 14 Elimination This Week?
This week is rather hectic for the Bigg Boss 14 contestants but three such contestants namely Rubina Dilaik, Rahul Vaidya and Aly Goni need not worry about this as they are currently running high on votes. All three contestants have had commendable journeys and their growth has been impeccable. While Rubina has shown the country what a woman can achieve if she sets her heart two, Rahul has taught us that being a man does not necessarily include hiding emotions. Aly has taught the country that you can find true love in your friend barring any boundaries. They may have had wonderful journeys but the audience relates to them because of these reasons. As a result they are riding high in votes.
Which Contestants Are in Danger this Week in Bigg Boss 14 Elimination This Week?
Nikki Tamboli is in danger of elimination this week. Nikki has been walking on thin ice for quite some time but she keeps getting saved due to her luck. Her massive journey on the show isn't because the audience loved her but because of her being in the right place at the right time. Nikki would have been out a long time back even after her first elimination had it not been for the protection she received from all the other contestants during difficult times. However, this time there isn't much that is going in favour of Nikki.
How to vote on Voot Online for Bigg Boss 14 Voot App?
Download the Voot App from the Play Store
Then register your account using email or Facebook Id.
Once you are done, search for Bigg Boss 14 vote.
Search for your favorite contestant and vote