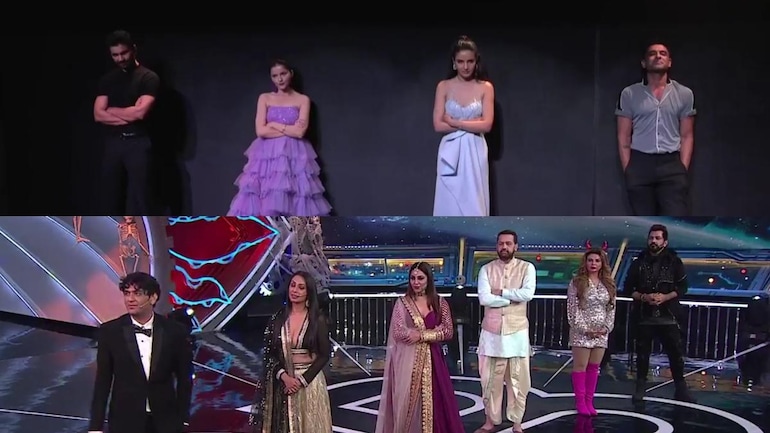 Bigg Boss 14 is one season that has been in desperate help of saving. The makers of this season have revamped the show, brought in ex-contestants hoping that their previous drama continues. The current contestants have been unable to provide the show with the necessary content. Last week, a set of challengers entered the house.




These challengers were Vikas Gupta, Arshi Khan, Rahul Mahajan, Manu Punjabi and Kashmera Shah. They will all be competing with the other contestants in every task. Their involvement in the show is already generating some public attention.
Bigg Boss 14 Elimination Vote Results on 11th December 2020
In the current nomination task, the house was divided into two teams. Team A had Rahul Mahajan, Eijaz Khan, Arshi Khan and Abhinav Shukla. While Team B includes Vikas Gupta, Jasmin Bhasin, Rubina Dilaik and Kashmera Shah.
The contestants would have to destroy the stalls of one another using mud. The first round is won by Team Eijaz. This leads to a fight between captain Manu and Rubina and Kashmera. They accuse Manu of being biased as there was only one member within the house when there should have been two.
In the second round, Bigg Boss will intervene as Eijaz tries to physically haul Rubina. Once this is done, it will be declared that Team Eijaz will be nominated this week. They are punished for their actions. Team Vikas is given the chance to nominate one person from their team who they think had the least involvement. The team chose Kashmera.
Bigg Boss 14 Vote Results Live Poll 9th December 2020
Eijaz Khan
Arshi Khan
Kashmera Shah
Rahul Mahajan
Abhinav Shukla
Which Contestants are safe this week in Bigg Boss 14?
Eijaz Khan and Arshi Khan will mostly find themselves safe this week if the voting trends are to be believed. In comparison to the others, their involvement in the show is monumental. Kashmera Shah has been trending ever since her entry into the show which is why she might be safe as well.
Which Contestants are in danger this week on Bigg Boss 14?
Rahul Mahajan and Abhinav Shukla will find themselves in grave danger if the elimination is left in the hands of the audience. Abhinav has been saved due to sheer luck or else he would have been eliminated long ago. Rahul is bringing some respite in the monotonous house and could be saved.
Bigg Boss 14 Vote Online
How to vote on Voot for Bigg Boss 14 Voot App?
Download the Voot App from the Play Store
Then register your account using email or Facebook Id
Once you are done, search for Bigg Boss 14 vote
Search for your favourite contestant and vote
Submit Vote