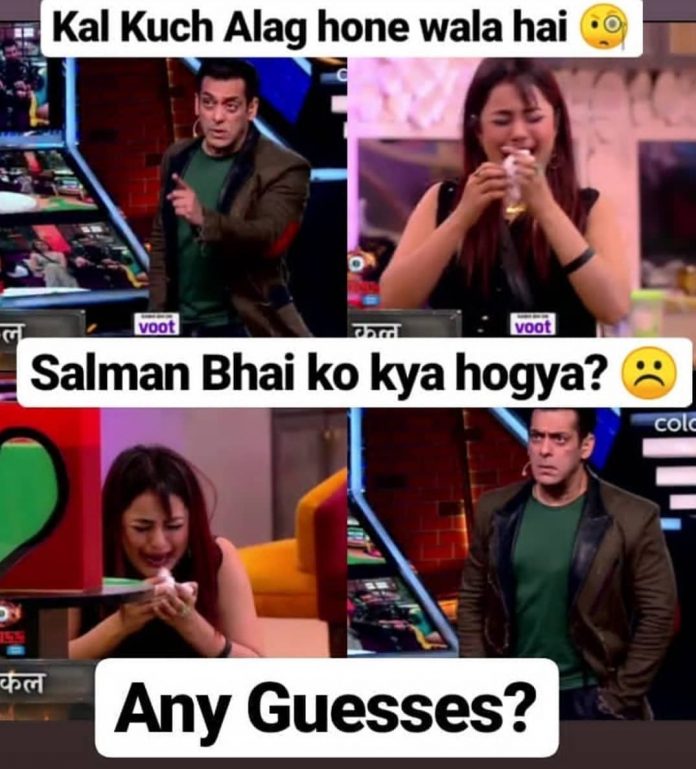 Bollywood superstar Salman Khan's contemporary TV realty show Bigg Boss 13 remains in the headlines due to its content. This time in this TV show, viewers have watched the drama of Shehnaaz Gill getting angry and Siddharth Shukla repeatedly in the house. This drama has become so much that I swear, even the people watching this TV show are now fed up with this chemistry of Sid-Naz (#SidNaaz). But it seems that after the fierce scolding of Salman Khan in the upcoming episode, it seems that Siddharth's fever, which hit Shahnaz Gill's head, will be reduced. Now we can expect something similar.




We have got some glimpse of what will happen in the coming weekend. According to reports leaked from Bigg Boss house, Salman Khan is going to scold Shahnaz Gill in the upcoming episode. After this, Shehnaz Gill will be seen crying sobbing after listening to scoldings of Salman Khab. Not only this, when Siddharth Shukla favours Shehnaz Gill, he will also have to face the insults of Salman Khan. Bollywood superstar will directly tell Siddharth Shukla that she is not that much a child. She has to handle herself. After all whether she wants to come out and work in the industry or not.
https://www.instagram.com/p/B7Jls9DBTr9/?utm_source=ig_embed
https://www.instagram.com/p/B7KoQ8NBR89/?utm_source=ig_embed
https://www.instagram.com/p/B7KotRjBFvw/?utm_source=ig_embed
By the way, a glimpse of it was also shown by the makers in the past day with a bang promo. Not only this, Deepika Padukone is also going to enter the house this time in Weekend Ka Vaar. She will come home to promote her film Chhapak. Now all we have to do is wait for this episode of this TV show. So are you also desperate to see this episode. Please tell us your opinion by commenting.