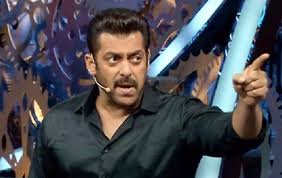 Bigg Boss 13 is on the verge of completing its twelfth week. The weekend ka vaar episodes promise to be filled with explosive action, drama and hungama, thanks to the presence of the host Salman Khan.
Salman Khan has had a rollercoaster ride in this season of Bigg Boss 13. Salman Khan was accused of being biased during the initial days of the show when he chose to evict Koena Mitra. However, the audience were fairly happy from there on when he discussed about critical issues. He ensured that he cracked the whip on contestants who took the physical route to show their power in the house.
However, everything is not well for Salman's future as the host of Bigg Boss 13. Over the last few weekend ka vaar episodes, it is clearly evident that Salman does not have any intent to host the show as his energy levels were gleamingly low.
In addition to this, the makers of Bigg Boss 13 announced a five week extension for the show. Salman's personal and professional commitments did not allow him to accept it. There were rumors about Farah Khan taking over as the host for the extension period. However, with a salary revision to INR 2 crores per episode, the makers sealed the deal with Salman Khan for the rest of the show.
Also, Salman's shooting schedule for 'Radhe' was another showstopper for the superstar.
Bigg Boss 13 Weekend Ka Vaar Highlights 21st December – What Did Salman Tell the Makers of BB13 About Quitting the Show?
Time and again Salman Khan tried to explain to the contestants about the excellent opportunity they have to showcase their character to the rest of the world. However, the contestants repeatedly indulged in physical violence and cheap activities which irked him. Even during this week's weekend ka vaar, there is a huge fight between Salman Khan and Rashami Desai, Mahira and Shehnaz.
Salman Khan told the makers on mike, "You guys extended the show by five weeks and who is going to do the show? I am not ready. See the level and class of these people. I am tired of explaining the same things to them again and again"