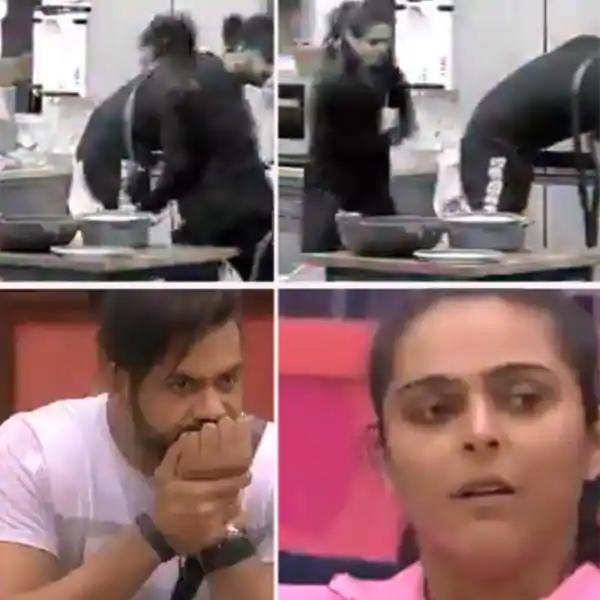 Bigg Boss 13 is heading for a high voltage Weekend Ka Vaar with some electrifying fights in store for the audience. Bigg Boss 13's most popular contestants Asim Riaz and Siddharth Shukla are safe this weekend. However, Mahira, Shefali Jariwala, Shefali Bagga, Vishal and Madhurima are nominated for eliminations this week. According to the happenings in the house, it looks like there is a very tough competition between Shefali Jariwala, Madhurima and Vishal for the eliminations this week. However, there are reports about Madhurima's early eviction this week.




End of A Bumpy Road for Madhurima Tuli in Bigg Boss 13?
Madhurima Tuli entered Bigg Boss 13 as a wildcard entry along with Arhaan and Shefali Bagga who were reentries. The creators expected a lot from Madhurima considering that he ex-boyfriend Vishal Aditya Singh was already present in the house. The duo shared a very weird relationship throughout her tenure.
With attempts to patch up being made, the differences were clearly out in the open. Asim and Rashmi tried their best to mend the relationship which was torn beyond repair. At least from the footage perspective, Vishal has never taken the first step in taunting or provoking Madhurima.
Madhurima or Vishal – Who is Blame for this Sheer Display of Violence?
Vishal was hit by a slipper first then by a pan several times which left him severely injured. The first incident was a culmination of a verbal spat which turned awry for the two. Madhurima is seen as an uncontrollable woman when she loses her temper. The second incident was also triggered by Madhurima where she kept taunting Vishal as 'sister' (behenji). This instigated Vishal to pour water on Madhurima even after Bigg Boss' warnings.
However, Madhurima is the one who wishes to have the last laugh and did not budge. She took a pan out of the kitchen rack and hit Vishal several times after which housemates tried to intervene.
Vishal expressed his desire to leave the show but chose to stay back as voluntary exit in the contract means no money at the end of the day!
How Did Salman Khan React To Madhurima's Display of Aggression?
Salman Khan has advised the contestants time and again to restrain from violence or use fowl language in the house as the show is being watched by millions of people including the young and old.
Madhurima was blasted by Salman Khan for her actions and when she tried to justify the same. Getting physical was never encouraged in Bigg Boss and there was immense pressure on the makers to take a call on this issue before it is too late. Madhurima was upset before leaving Bigg Boss 13 which is obvious as she is losing out on a lot of money as she could not control her temper.
Weekend ka vaar promo https://t.co/GYrVT6TytT

— The Khabri (@TheRealKhabri) January 17, 2020
When Vishal and Madhurima tried to explain, Salman was furious and he told I do not need any explanation from you. The Weekend Ka Vaar promises to be an epic display of aggression and furiousness yet again from Salman Khan.
Do you think Madhurima deserved to be evicted? Let us know in the comments below.