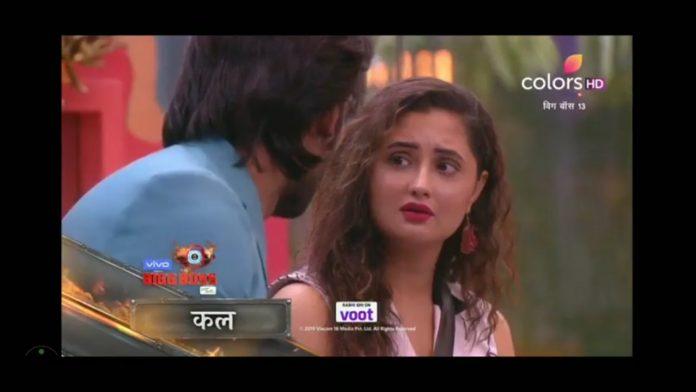 Bigg Boss 13 enters a very decisive phase and the action in the house does not show signs of reducing by any means. Paras is out of the house and Siddharth is sick. Mahira, Shehnaaz and Siddharth are the lone warriors on their side of the clan while the others are ganged up against them.
Bigg Boss 13 December 8th Weekend Ka Vaar Episode Highlights – What Did Salman Tell?
After Saturday's Weekend Ka Vaar episode, the audience are shell shocked about the shocking expose which Salman Khan did about Arhaan Khan.
Arhaan and Rashami are sharing a very special relationship in the house. Arhaan Khan returned to the house as a wildcard entry and expressed his love for Rashami. It was a very special relationship and Rashmi respected it by every means.
In a shocking twist to the weekend ka vaar happenings, Salman Khan blasts Arhaan Khan. He claims Arhaan Khan has the habit of talking about the personal lives of the contestants outside the house. Arhaan is shell shocked. Arhaan probably guesses what Salman Khan wishes to reveal at the moment.
Salman Khan is outraged and removes his jacket shows off his body. Rashami is clueless about what is going on. Salman Khan asks Arhaan in a furious manner, "Who are the members of your family?". Arhaan says his parents, sister. Salman Khan then reveals, "Rashami, do you know that Arhaan has a kid?". Rashami is shell shocked.
Bigg Boss 13 December 8th Weekend Ka Vaar Episode Highlights – What Did Salman Reveal It In Bigg Boss 13?
However, the real reason why Salman Khan brought this issue up in Bigg Boss 13 is the question running on millions of minds. As Salman mentioned, most of the contestants had relationships before and there have been scandals related to it at times.
Rashami trusted Arhaan completely & before she went inside for BB 13, she gave him full access to her bank accounts, house & almost everything else. While she has been inside, Arhaan has been misusing her money.
According to reports, Arhaan has literally been floundering Rashmi's savings and has no account of what he's spending it on. Not just that, he started living at her house ever since she went inside. Now, after his re-entry, his family members have also started staying at Rashami house.
All this is happening while Rashami is completely clueless about it. Her close friends and family members are witness to the whole tamasha happening but their hands are tied.
Do you think Salman Khan did the right thing? Will Rashami realize what is going on outside the house and how Arhaan is making use of her? Let us know in the comments below.