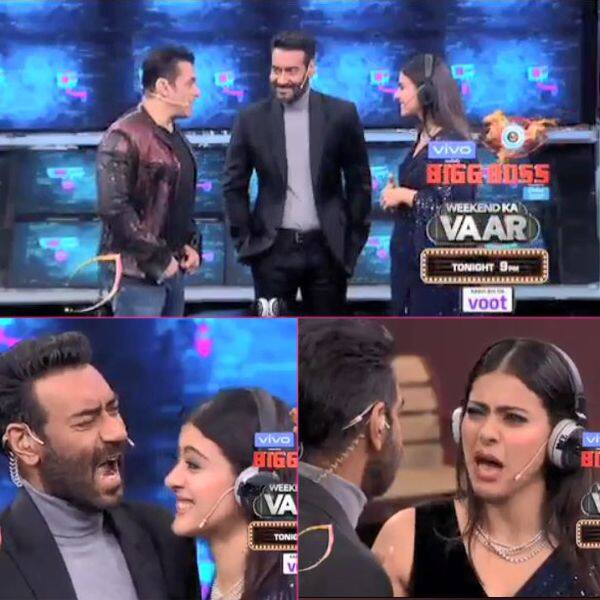 Today, the audience is going to have a lot of fun in the house of Bigg Boss 13. We are saying this because, Salman Khan's guests are going to knock in the weekend ka vaar. The guests of Salman Khan are his very good friends who will go to the sets of Bigg Boss to promote their film. Here we are talking about Ajay Devgn and Kajol who will arrive here for the promotion of the upcoming film Taanaji. We are not saying this, but the new promo of Bigg Boss 13 is witness to this, in which Salman Khan is seen having fun with his old friend Kajol.




In the promo of Bigg Boss 13, Salman Khan is also seen supporting Ajay Devgn in this work. Actually, today Salman Khan is going to play his favorite game to Kajol in which Kajol has to catch the lipsing.
During this, both Ajay Devgn and Salman Khan are seen harassing Kajol. On the other hand, in recognition of the words, Kajol also abuses in front of everyone. Both Ajay Devgan and Salman Khan are unable to control their laughter by seeing this act of Kajol.
By the way, another guest with Kajol and Ajay Devgan will arrive to meet Salman Khan. We are talking about Saif Ali Khan's who is missing from the promo of Bigg Boss 13, but in the episode of So, Saif is also going to strike with these three stars.
See promo of Bigg Boss 13
https://www.instagram.com/p/B64qJpMgb_w/?utm_source=ig_embed
It is clear from the promo of Bigg Boss 13 that today, Salman Khan is going to fill Bigg Boss 13's house with laughter. That thing is different, Salman Khan's anger is also going to be seen in the show before this. Once again Salman Khan's anger is going to come out on Asim Riaz, Sidharth Shukla and Rashami Desai. Today Salman Khan's mind will get so bad that, Salman Khan will speak to these three to leave the house. In such a situation, tell us how eager you are to watch the upcoming episode.