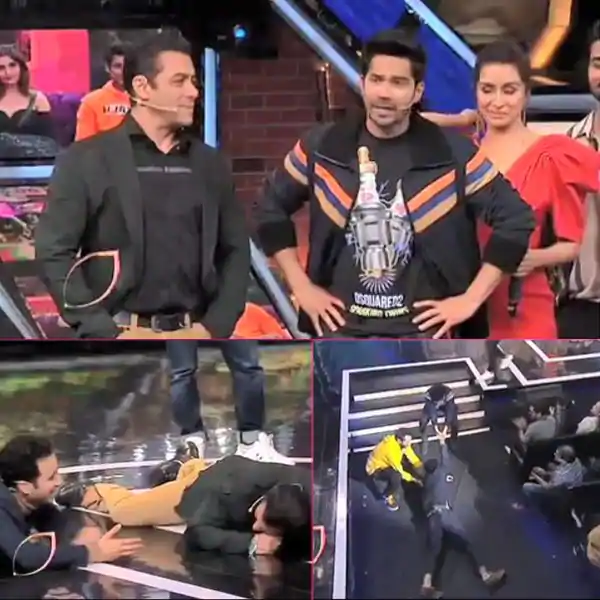 Every week the weekend of Bigg Boss 13 is the most exciting time which fans are eager to watch. This is the only time when apart from fighting riots in the house, there is also fun. Salman Khan himself comes as well as he also brings some of his guests who, in the house of Bigg Boss 13, make moon. A similar scene was seen last night when Saif Ali Khan was seen having fun with Salman Khan. Saif Ali Khan came here to promote his film Jawani Jaaneman. Today 26th January 2020, Varun Dhawan of Saif is going to be a guest of Bigg Boss.




The entire team of Street Dancer 3D is going to be seen here with Varun Dhawan. Apart from this, Shraddha Kapoor will also be present. By the way, Varun Dhawan is going to make a blast with the team of Street Dancer. Not only this, Varun Dhawan is also going to dance Salman Khan at his behest.
We are not saying this, rather, the promo of Bigg Boss 13 is proof of this. The makers of Bigg Boss 13 have recently shared a new promo. In this promo, Varun Dhawan is seen saying to Siddharth Shukla and Salman Khan that the heat is constantly increasing.
I have a cure to overcome that, after doing it, no one will take heat. After which Varun Dhawan is seen doing a fun dance step with his team. In this step, everyone has to lie down on the ground and dance.
While agreeing to Varun Dhawan, Siddharth Shukla and Paras Chhabra were first seen doing this feat. After that Salman Khan also tried this recipe and laughed a lot. Today's episode, along with Varun Dhawan and Company Salman Khan, is going to make all the viewers laugh.
See Bigg Boss 13 26th January 2020 Promo Video:
https://www.instagram.com/p/B7xUJ_fAisR/?utm_source=ig_embed
It is clear from the promo of Bigg Boss 13 that today, the show is going to have a tremendous temper of dance. In such a situation, tell us how excited you are to see Bigg Boss 13.