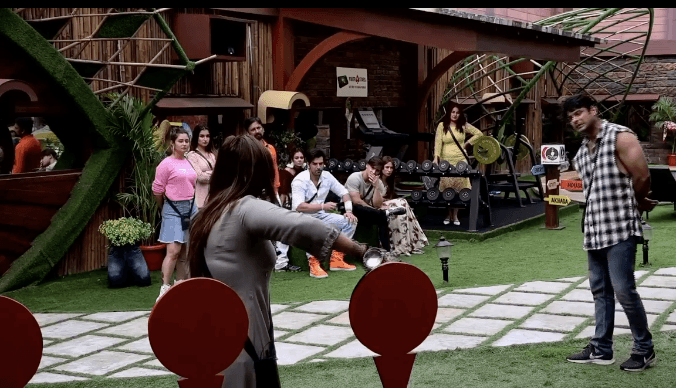 Bigg Boss 13 Week 4 has commenced and today 23rd October 2019 is Tuesday and Bigg Boss has announced the nomination task for the week. A rose is kept in the garden area and each male contestant should run and pick a rose and give it to their favourite female contestant. The female contestant has the power to spray black paint over the male contestant photos and whose photo has the most no of black spray gets nominated. Also the girl with maximum no of roses gets saves.




What happens during Rose Task for Nomination
Initially when the buzzer rang Paras runs and give rose to Mahira. Mahira picks the black spray and paints Siddharth Shukla's face kept in garden area.
Then Siddharth runs, picks a rose give it Arti Singh, she paints on Paras face
Then Asim Riaz runs picks a rose and give to Arti Singh again, she paints on Sidharth Dey face
The act continues and finally Arti ends with maximum roses and Asim Riaz's face alone is left unpainted.
So Asim and Arti are safe from elimination nomination
Bigg Boss 13 Week 4 Elimination Nomination List
Three male contestants and Five female contestants are nominated for elimination this week. They are
Sidharth Shukla
Paras Chhabra
Siddharth Dey
Mahira Sharma
Rashami Desai
Devoleena
Shefali Bagga
Shehnaaz
Who will get eliminated this week? Share your comments below.