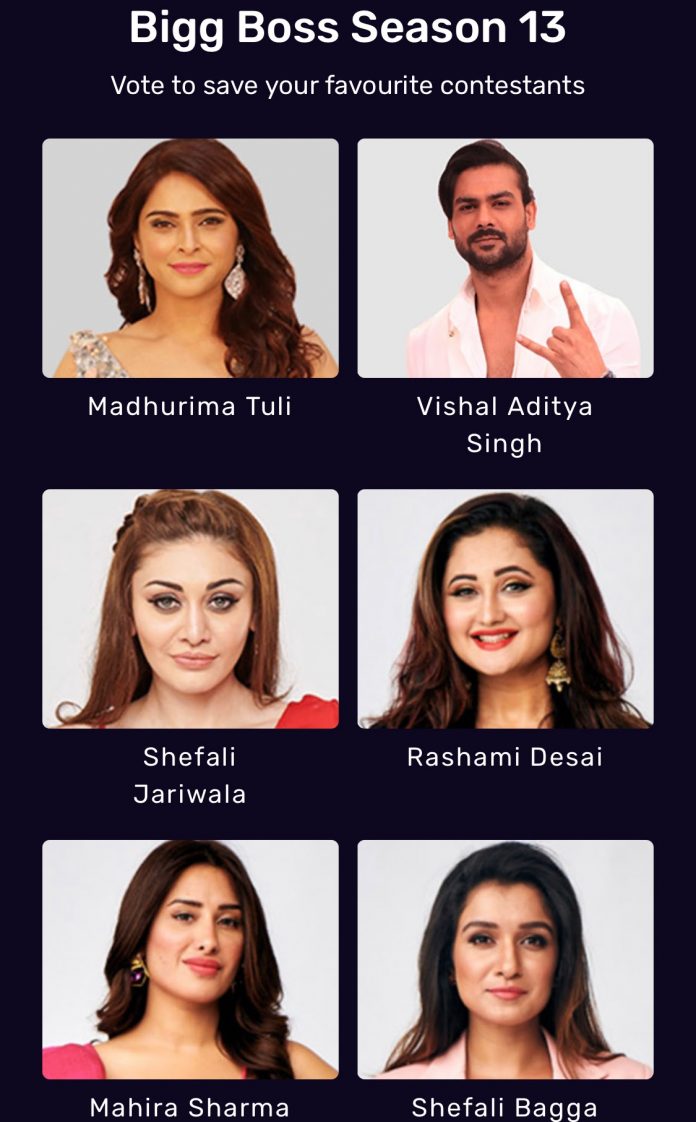 Bigg Boss 13 enters its fourteenth week. The drama, chaos, fun and fights continue to a great extent in the Bigg Boss 13 house. A lot of shoulders have been rubbed this week and Mahira's nomination for eliminations is crucial. As Bigg Boss 13 enters the decisive phase where contestants and audience are not yet out from the announcement of the extension of the show, the fourteenth week elimination of Bigg Boss 13 this week will be a very important one.




Shehnaaz finally becomes captain this week by beating Vishal Adithya Singh as the housemates supported her over Vishal. It must be noted that Vishal is trailing in his vote share and there are reasons that he may get evicted from house this week. Surprisingly, Rashami and Mahira are present in elimination nominations this week. However, it would be interesting to see if Madhurima can survive another week of danger.
The big guns, Siddharth Shukla and Asim Riaz are safe this week. Siddharth's two week penalty is completed.
The weekend ka vaar episodes promise a lot of action and suspense as the host Salman Khan digs into the happenings of the week. Though eviction nominations have been announced, it is becoming quite obvious that Vishal, Shefali Bagga or Madhurima will be evicted this week.
Elimination Nominations For Bigg Boss 13 Week 14
Shefali Jariwala
Mahira Sharma
Madhurima Tuli
Shefali Bagga
Rashami Desai
Vishal Aditya Singh
Mahira Leads with 37% Vote Share In Major Polling Reports, Vishal, Madhurima in Danger Zone – Day 1 of Audience Voting – January 2nd
As expected, Mahira and Rashami are leading in major polling reports from day 1 of audience voting. However, it was surprising to see the Rashami get nominated for eliminations this week. Though the contestants are fighting hard to get saved from evictions, the tasks are getting tougher and intense by the day.
Mahira is alone at the top as there is no Siddharth or Asim this week. However, these are early trends did not swing either way. Shefali Bagga is not safe by a mile. Though, Madhurima and Vishal are trailing the voting trends can change based on the performances in the upcoming week. It would be interesting to see the gimmicks which Paras and Siddharth might do to save Mahira this week.
Madhurima, Vishal and Shefali Bagga In A Close Fight To Get Saved from Elimination!
This week's elimination voting results promises to be a close fight till the end. Currently, based on numbers, Madhurima is in the bottom. However, Madhurima, Vishal and Bagga are not very far from each other. The vote swing can go either ways but the bottomline is this week's elimination will be too close.
In terms of coverage perspective, Madhurima and Vishal are trying to stay united and get some footage. However, Shefali Bagga is lost in terms of her character and is having a directionless season. Bagga took the violent way to get some traction by destroying things in the captaincy task last week. She will be looking for damage control this week as she is trailing the audience voting.
Will Madhurima Step Up the Game Against Vishal?
Madhurima is attempting to make the most out of her links with Vishal, as she is getting cornered by the older contestants like Mahira. She understands that her only way of gaining coverage is by bring Vishal into the picture. It would be interesting to see how Vishal handles this. It is only expected to increase in the upcoming days.
Will the Four Wildcard Entries Make an Impact in this Week?
With Bigg Boss 13 extended by five weeks, it would be interesting to see how the new wildcard entries make an impact in the house. Shefali Bagga is already cozying up with Vikas Gupta's plot and Arhaan is playing by Rashmi's rules. Now that Vikas Gupta is out of the house, things change for Shefali Bagga. However, she enjoys Shehnaz's support.  Madhurima Tuli will try to use Vishal Adithya Singh's issue to gain ground in the house. The duo is doing everything to gain some traction. However, with intense competitions in the house, it is unlikely that Shefali Bagga, Madhurima or Vishal will make a significant rise in the popularity rankings in the first week.
Shehnaz Drops from the Most Favorite Lady in the House to the Most Hated!
Shehnaaz is one of the most favored contestants of Bigg Boss 13. While she has a huge fan base and is likely to be saved from eliminations, she has lost the faith and love of her fellow contestants in the house. After siding with Paras and Mahira, Siddharth and Shehnaaz seem to be losing a lot of popularity both inside and outside the house.
Bigg Boss 13 Week 14 Elimination Vote Share According to News Crunch Polls – Day 1 of Audience Voting – January 2nd
Shefali Jariwala – 14% vote share
Mahira Sharma – 37% vote share
Madhurima Tuli – 7% vote share
Shefali Bagga – 9% vote share
Rashami Desai – 25% vote share
Vishal Aditya Singh – 8% vote share
Bigg Boss 13 Voting Online Week 14
Voting through Voot App – You can install Voot app from Play Store or Apple Store and search for Bigg Boss 13. There is a voting banner and login and vote for your favourite contestant
Voting through MyJio App – Use MyJio app and vote for your favourite contestant by clicking on Bigg Boss 13 voting banner
You can vote at our voting poll to get instant results about your favourite contestants




Vote to save your favourite contestant
Who will get evicted this week? Let us know in the comments below.