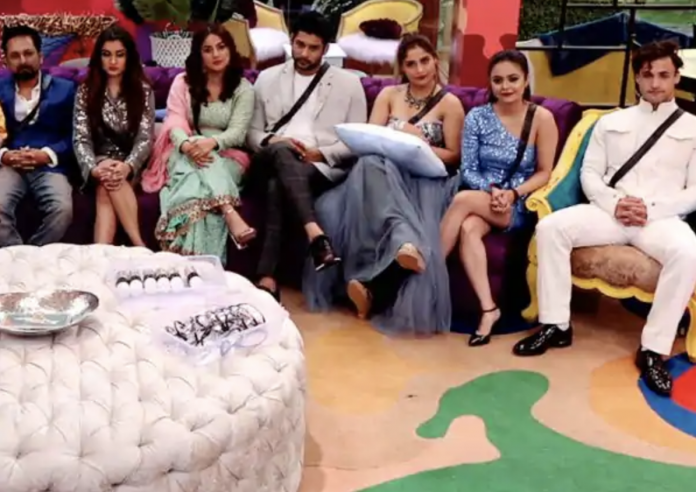 Bigg Boss 13 voting online opened for this week only on 24th October 11:30 Pm and all ten contestants in the BB house are nominated for eviction. It's Day 1 of elimination voting for Week 4 and this is how the voting results are:




Shehnaz Kaur is leading the voting with 26% vote and she is in safe zone. Her fans are making sure she will not get voted out at any cost.
Asim Riaz is following her closely with 24% vote. Asim has gained fans by his real character and respecting people. Not shouting or getting into controversy unnecessarily. He is also popular among girls for his physique.
Sidharth Shukla is one of the most anticipated BB contestant, it's surprising to see him at no. 3 in voting count but he is still safe with 21% of the vote. He may overtake the other two contestants depending on his fanbase and performance in the coming days.
All the other contestants are in danger with only single percentage of votes
It's surprising to see Rashami Desai with just 9% of vote and may even get eliminated this week if Bigg Boss decides to eliminate more than two contestants in the grand finale to accommodate other wild card contestants.
Arti Singh follows closely with 8% and may get more votes as some celebrities like Bipasha Basu are asking people to vote for her. Still she is in the danger of getting evicted from the house.
Devoleena, Mahira ans Paras with just 3% of votes are in danger of elimination. These three were expected to perform better with voting from fans but they have shifted their base to other contestants leaving these three at the bottom of the voting results on day 1.
Siddhartha Dey is sure to get eliminated this weekend owing to just 1% of votes. Also he has abused other contestants with words and people want him out of the house.
What do you think about the voting results? Are you voting for your favourite contestant? Comment below.
Bigg Boss 13 Voting Online
Voting through Voot App – You can install Voot app from Play Store or Apple Store and search for Bigg Boss 13. There is a voting banner and login and vote for your favourite contestant
Voting through MyJio App – Use MyJio app and vote for your favourite contestant by clicking on Bigg Boss 13 voting banner
Vote online in Voot website – https://www.voot.com/bigg-boss/bigg-boss-season-13/bigg-boss-13-voting-online/
You can vote at our voting poll to get instant results about your favourite contestants
Vote for your favourite contestants