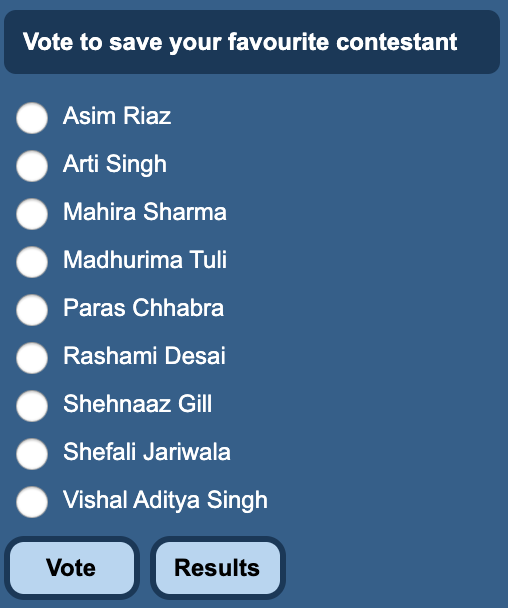 Bigg Boss 13 has reached Week 15 and it's time to nominate housemates for this week's eviction. Bigg Boss announces nomination task for this week which involves housemates to trade the house properties to get saved from eviction nomination. Bigg Boss will announce which furniture to be taken and the housemates have to decide unanimously if they would keep the furniture or trade it to save a housemate in a given time. As usual there were no unity among housemates and they get divided into two groups and in one group it was Sidharth Shukla, Paras Chhabra, Mahira and Arti.




While in the other group it was Asim Riaz, Rashami Desai, Vishal and Shefali Jariwala while Shehnaaz have not taken any group but Sidharth and Paras believed that Shehnaz would support them. The housemates make efforts to come to a common consensus when Bigg Boss puts up the green bed in the garden for barter. While the debate is on whether save Mahira, Shehnaz makes it clear that she doesn't want to save her. She stands her ground and the chance goes to waste.
Later, when the housemates try to settle on saving Aarti, Shehnaz turns around and changes disagrees on saving Aarti, too. This leaves Aarti, Sidharth and Paras in shock. Where Mahira loses her calm on Shehnaz, Shehnaz taunts Paras and Sidharth saying that if they can play games with her, she can do the same. In the end none of the housemates got saved and everyone in the house got nominated for elimination.
Here are the week 15 nominated contestants:
Asim Riaz
Arti Singh
Mahira Sharma
Madhurima Tuli
Paras Chhabra
Rashami Desai
Sidharth Shukla
Shehnaaz Gill
Shefali Jariwala
Vishal Adithya Singh
Bigg Boss 13 Voting Online Week 15
Voting through Voot App – You can install Voot app from Play Store or Apple Store and search for Bigg Boss 13. There is a voting banner and login and vote for your favourite contestant
Voting through MyJio App – Use MyJio app and vote for your favourite contestant by clicking on Bigg Boss 13 voting banner
Vote online in Voot website – https://www.voot.com/bigg-boss/bigg-boss-season-13/bigg-boss-13-voting-online/
You can vote at our voting poll to get instant results about your favourite contestants




Vote to save your favourite contestant