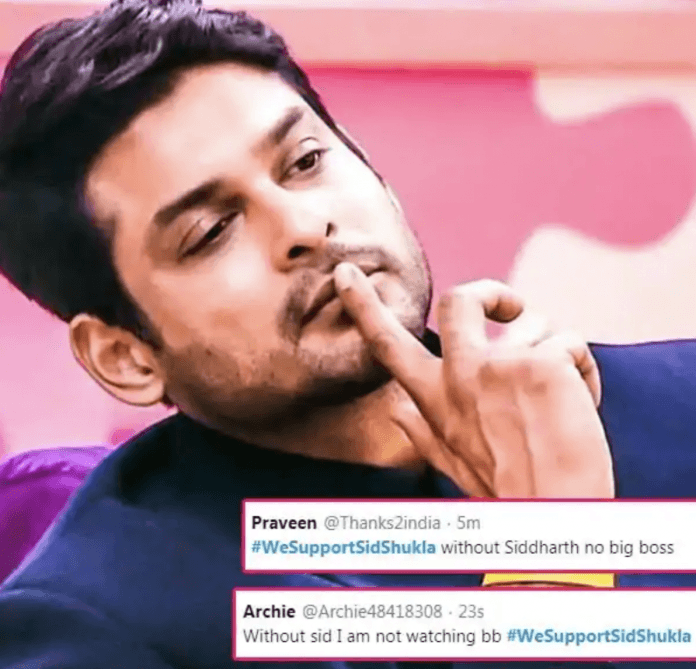 Viewers of Bigg Boss 13 have been getting jitters on a jolt for the past few days. This week, Salman Khan has made Devolina Bhattacharya and Rashmi Desai homeless on the weekend. Meanwhile, it is being heard that tonight, Bigg Boss himself is about to make Siddharth Shukla homeless.




Today, Bigg Boss will give this week's Captaincy Task to the householders, in which all the contestants will become uncontrollable. At the same time, Sidharth Shukla will not back down from putting his life to win the task. According to the promos released by the makers, Mahira Sharma will get hurt due to Siddharth and this is why Bigg Boss will expel Siddharth from the house.
Watch the shocking video of Bigg Boss 13 below …
https://www.instagram.com/tv/B4eZMtqANBi/?utm_source=ig_embed
The audience is shocked to see Siddharth being homeless in this way. Some people say that the makers have done wrong with Siddharth Shukla. At the same time, some people say that he will stop watching Salman Khan's show (Bigg Boss 13) from now on. Along with this, #WeSupportSidShukla has started trending on Twitter.
See below reactions of fans …
#WeSupportSidShukla
This season is also going flop like # bigboss12 that's why so many wild card entry's
Even house of this season seems made in way too less budget, that's why @ColorsTV be like TRP aaygi toh continue karenge nh toh one month mein wrap up? #BigBoss
– Queensland (@queenscupidland) November 5, 2019
I watched n re watched the bigg boss clip mahira sharma what is wrong with this girl Arrey bhai beech ma kyo fudakti ghoom rhi ho zabardasti ghus ri h last time bhi yhi hua tha
R boss … Sid nikla na ma to show nhi dekhne wali # WeSupportSidShukla
– Ayushi baishla (@Ayushi_baishla) November 5, 2019
#WeSupportSidShukla we always support Shukla ji?
– Uttam (@ ukt_007) November 5, 2019
Sidharth Sukla show ka jaan hai ye evict hua to trp v giregi #WeSupportSidShukla
– Sanjay Kr Gupta (@ SanjayK26429842) November 5, 2019
#WeSupportSidShukla without Siddharth no big boss
– Praveen (@ Thanks2india) November 5, 2019
What he has been called in d show by people wat he has gone through dis season
* Girls ganging up against him that he loses his temper
* Accused for #meetoo
* Called 40 saal ka buddha
* Rehab gaya nasha karta hai
* Gira hua aadmi
Still he is what he is # WeSupportSidShukla
– Jannat Zubair Rahmani (@imjannatzubair) November 5, 2019
The man who has his own personality and this show is for you #WeSupportSidShukla
– Anil @ sharma (@ Anilsha50351051) November 5, 2019
Wow ! Bigboss. What the hell? You have proved that the true man's reputation is that people like gimmicky people, started watching Bigboss for the first time, it seems the last show today after today voot delete and colors unsubscribe? Jaihind #WeSupportSidShukla
– vijay shukla (@ vjshukla991) November 5, 2019
Not even Siddharth Shukla, Bigg Boss too # WeSupportSidShukla
– RAHUL JI ™ ® ?? (@ rahuljaggi0786) November 5, 2019
Without sid I am not watching bb #WeSupportSidShukla
– Archie (@ Archie48418308) November 5, 2019
#WeSupportSidShukla dont worry sid … We are always with you
– Pooja Mmt (@mmt_pooja) November 5, 2019
See the list of nominated people this week …
These contestants are nominated for week 6 of Bigg Boss 13 – Tehsin Poonawala, Paras Chhabra, Mahira Sharma, Shahnaz Gill, Shefali Jariwala and Arhan Khan, who will get eliminated vote below.
Voting through Voot App – You can install Voot app from Play Store or Apple Store and search for Bigg Boss 13. There is a voting banner and login and vote for your favourite contestant
Voting through MyJio App – Use MyJio app and vote for your favourite contestant by clicking on Bigg Boss 13 voting banner
Vote online in Voot website – https://www.voot.com/bigg-boss/bigg-boss-season-13/bigg-boss-13-voting-online/
You can vote at our voting poll to get instant results about your favourite contestants
Vote for your favourite contestants